'Dogs on leads' to be compulsory during the deer birthing season in Bushy and Richmond Parks

21 April 2022
The Royal Parks have announced that it will be compulsory for visitors to have their dogs on a lead in Bushy and Richmond Parks from the 1 May until 31 July 2022. Neighbouring Home Park will also be adopting the same measures.
These measures are being introduced to protect both deer and dogs during the deer birthing season. Over the next few months, around 300 deer will be born in the parks. The season marks a vulnerable time for female deer, who hide their young in bracken and long grass to conceal them from dogs and other perceived predators.
Neighbouring Home Park (Hampton Court Park) will also be introducing the same requirement. They expect that 120 deer will be born during this time.
Since the beginning of 2022, there have been over 50 incidents recorded of dogs chasing deer in Bushy and Richmond Parks. As many incidents go unreported, it's expected that this figure is much higher. Unfortunately, in the month of March alone, The Royal Parks have been alerted to over 26 separate incidents of dogs chasing deer, the highest number since they began keeping centralised records.
During last year's birthing season, when it was also compulsory to keep dogs on a lead, there was a 92% drop in incidents of dogs chasing deer in Richmond and Bushy Parks – two incidents recorded in those three months compared to 25 incidents in the preceding three months.
Dog walkers are warned however, that having dogs on a lead does not completely eliminate risk, and the safest option is to exercise dogs elsewhere during the birthing season.
The Royal Parks also urges all visitors to give female deer respect, privacy, and space, and not to go in search of young deer. Under no circumstance is a new-born deer to be picked up. If visitors see one on its own, they should rest assured that its mother will be grazing nearby. Female deer hide their young whilst they forage for food to create the milk that they need to nourish their young. Throughout the course of the day, the mother will periodically return to suckle her new-born, but she may reject it if she picks up a human scent.
Further details are available on The Royal Parks website.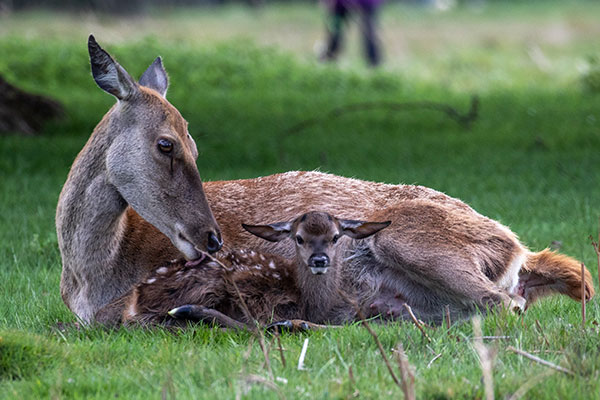 Community news on behalf of The Royal Parks