Shortfall in plasma donors

3 August 2021
NHS Blood and Transplant (NHSBT) is campaigning for people to donate plasma for medicines, including at the Twickenham plasma donor centre. 
Plasma donation only restarted in April after a gap of more than 20 years and few people know what plasma donation is. An NHSBT survey shows only 23% of the public know about it.
This lack of awareness is contributing to a shortfall in donors. There are 1,069 active plasma donors at the Twickenham plasma donor centre, which is in Regal House on London Road. However the centre needed to have 1,400 active donors by July.
Now, as plasma donation continues to expand, NHSBT needs about 1,600 more people to start donating plasma at the Twickenham Centre over the next three months
 Donated plasma is made into antibody medicines known as immunoglobulins, which are used to save the lives of people with immune disorders. Around 17,000 people a year receive these medicines. 
Charlotte Laycock from Wimbledon needed plasma medicine transfusions to help treat a rare long term condition that causes muscle weakness.

The 32-year-old from Wimbledon was diagnosed with generalised Myasthenia Gravis in January 2021.
"As you can imagine, my life has been turned a little upside down since then," said Charlotte, an event manager.
Her immune system attacks the connections between her muscles and her nerve system.
She suffered muscle weakness, drooping muscles in her eye, lost the ability to speak and most seriously, could not even swallow food for a month.
"I couldn't eat, I couldn't talk," said Charlotte.
"I felt like I'd been hit by a bus."
If her condition went untreated in the long term, she may even lose the ability to walk and need to use a wheelchair.
Charlotte had five days of IVIG plasma treatment at St George's Hospital in March.
The exact mechanism is not known, but it's thought the transfused antibodies regulate her immune system's response and calm it down.
She said: "I'm largely symptom free now. I can lead a normal life."
Myasthenia Gravis goes through phases and Charlotte expects more transfusions to manage the symptoms, as one part of wider treatment.

She said: "It means so much to me that people can now give their plasma. If people can donate, please do – it saves lives."
To donate plasma, visit  blood.co.uk/plasma or call 0300 123 23 23.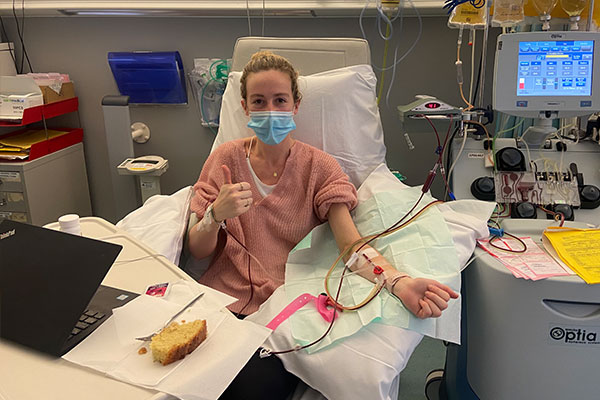 Community news on behalf of NHS Blood and Transplant