Date: Tuesday 13 November 2018
Author: Councillor Liz Jaeger
Title: Deputy Leader and Cabinet Member for Housing and Community Safety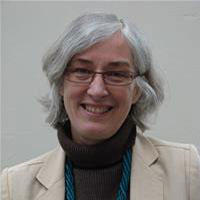 There's been a lot of attention on issues of community safety both in the borough and across London over the past few weeks.
So, as the Community Safety Cabinet member and a Whitton councillor, I was delighted the police chose to hold one of their first #Together events in Murray Park at half term. The sun shone, no guarantee at the end of October, and the good weather helped achieve a splendid turnout that really did bring the community together. 
This was part of a series of events the Met are holding across London. The day of family activities and entertainments had as its focus sprucing up Murray Park's community hall, with the agreement and help of the council's property services. This is so the hall can be a touchdown base for the local police during their general patrols, and also a base for local youth activities.
This event followed an earlier partnership this summer with our council youth services, when the gardens around Whitton's Youth Zone were greatly improved through the hard work of police, cadets and other community volunteers.
Days like this really matter at a time of rising concern about crime levels. Positive activities that engage our community, and particularly young people, help to boost community confidence and resilience.
We would all love to see extra funding to help keep our communities safe,  and are very aware how stretched resources are. People have said to me how they wish they saw more police on our streets.
But, believe it or not, there are more police in our borough than there are traffic wardens! We all have our dedicated safer neighbourhood teams (SNTs), which across the borough total some 50-60 officers. Sadly, not as many as there used to be, but still a significant resource that we should be doing our utmost to help and support.
And the police want to work with the local community. If you don't get to see them on your patch, and you would like to contact them, you can track them down by finding out about the police community contact sessions in your area. These are weekly, and advertised with posters and on the Richmond Police Twitter account.
Or you can look up my SNT online, which will tell you about the sessions nearest to your postcode. No appointment needed.
Meanwhile, with all we see and hear reported about crime at the moment, it's important to remember that Richmond remains the safest borough in London for violent crime – though the way statistics are reported can sometimes belie this.
Remember it's always worth thinking critically about what you read, and questioning what percentage rises or falls really mean in terms of absolute numbers.
This message came across very strongly in an excellent film I watched made by young people in our borough this year about combating hate crime. Another example of very positive engagement from our young people.
Let's keep working together with the police, and across the generations, to keep ourselves safe.