Bumper business support programmes
Date: Tuesday 16 October 2018
Author: Councillor Geoff Acton
Title: Cabinet Member for Business, Economy and Employment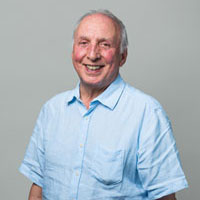 We often refer to the fact that Richmond upon Thames is one of the most entrepreneurial places in the country - almost one in five working age residents being self-employed - about 70% higher rate than the country overall. This can range from home-based consultants to tradespeople; from taxi drivers to those developing the next big thing in Artificial Intelligence. Whether they consider themselves entrepreneurial, or just 'getting on with work', they are all at heart a 'business' - often with themselves as the staff, the bookkeeper, the marketer and tea-maker.
It's also interesting to note though that we've seen a significant increase in businesses that employ 50 to 249 people, up almost 20% in five years, and that about a quarter of jobs in the borough are in around 40 big companies, each employing 250 people or more. One thing all these businesses and business people have in common is that they all do better with some investment in doing things better and a bit of outside support - be that skills development, increased understanding of opportunities and how to get things done, or just having a critical ear. The better they do, the better our communities fare overall.
That's why we recently launched our business support programmes 'The Richmond Enterprise Challenge' and 'Richmond Foodies' that offer a breadth of support to help you 'step up, start up or scale-up'. This is provided in a range of ways to fit in with your needs, including online webinars, face-to-face workshops, one-to-one support and networking.
This programme complements the work of the Richmond Chamber of commerce, which itself provides a wide range of support and networking opportunities throughout the year. Recognising the importance of the borough's entrepreneurial spirit, we're delighted to be sponsoring the Chamber's 2018 Business Awards' 'Best New Start Up' category, alongside our ongoing support for the Chamber.
In an increasingly internet-reliant world, it's also worth mentioning that businesses and residents can benefit from grants up to £3000 to take advantage of the fastest full-fibre internet available, through the government's Gigabit Voucher Scheme. This is especially useful for those data-hungry businesses or where sharing a connection is slowing things down. Businesses can pool their vouchers to boost the impact of the vouchers too.
It's common in business to sometimes find yourself so busy working 'in' the business that we forget to work 'on' it. Stepping back and doing the latter is an investment. So, if you or anyone you know is in business - or aspires to be - I'd encourage you all to take up this invitation to explore the support available and help maintain our borough's reputation as a great place to do business.
You can find out more by visiting the following websites:
Updated: 19 November 2021