Date: Tuesday 26 June 2018
Author: Councillor Gareth Roberts
Title: Leader of the Council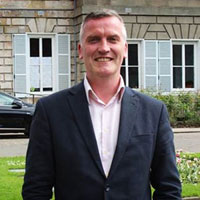 You may have noticed some changes around the Council in the last few weeks as the new administration beds in following local elections in May. And if you are reading this you're seeing another change in action. As part of our commitment to running a more open Town Hall myself and my Cabinet will be writing weekly 'Comment Spots' so you can find out in our own words what we have been up to and what we are working on in the future.
I think it is important to set out what challenges lie ahead, as it isn't going to be an easy ride for us, or any London council. Without doubt one of the biggest will be challenging the Government's decision to expand Heathrow after this week's Parliamentary vote. The Council, and our partners, remain opposed to this decision, as we have done for the past 10 years. And the coalition against Heathrow's expansion continues to grow, with Mayor of London announcing his opposition to the plans last week.
Despite the vote outcome we are seeing more and more people voicing opposition to this expansion plan and we still believe the planned expansion will never eventuate. As we have pointed out on a number of occasions, the plans make no sense economically or environmentally. The airport already contributes to illegal and lethal air pollution and, even with measures to cope with pollution, the new airport will cause further deterioration whatever the Government's figures may claim to the contrary. 
On top of that our residents, and those across London, could be forced to suffer noise form up to 38 arrivals at Heathrow before 5am if a third runway goes head – that's according to the Department for Transport's own, previously unpublished figures. And all that for no significant economic benefit. A third Heathrow runway would be taken up by mainly short-haul routes with just three additional long-haul destinations.
We will stand with our colleagues in Hillingdon, Wandsworth and Windsor & Maidenhead. Our message to the Government is we will fight this proposal through the courts and we will use every tool at our disposal and every argument we can muster, because the alternative because the alternative is to condemn thousands of people to premature deaths from dangerous levels of air pollution.
Whilst the fight against the Heathrow expansion looms large as a focus for the Council going forward it is by no means our only challenge. Another significant challenge is, to put it bluntly, money. Over recent years the little money on which we have relied from the Government has pretty much dried up. As a result, we will have to be far more creative in terms of how we fund the services and commitments we provide to you as residents. This may mean that over the course of the next four years some increase in council tax will be inevitable. However, we will continue to look for savings where possible and we will continue to work collaboratively with other councils, such as Wandsworth, to deliver those savings.
Of course, the day to day challenges of making this the best borough to live and work in continue too. We will be looking at how we better support our ageing population, how we meet the housing needs of people in the borough, how to improve our air quality and protect our green spaces and how do we ensure our children continue to benefit from good quality schools.
We have a big team of Cabinet Members and Assistant Cabinet Members raring to tackle these challenges head on, and we are committed to working with residences on how we do that. That's why we will be moving to a new scrutiny model of decision making. This will see key decisions go through pre-scrutiny so more of your representatives are involved in the day to day decision making that affects you. You told us you were tired of top-down decision making and we are committed to changing that.
With that in mind, over the coming months we will be revisiting the proposals for the Twickenham redevelopment, working in partnership with local residents and groups. We will also be launching a new, meaningful community engagement programme that will take democracy and decision-making out to local people.
It's bound to be a busy few months as we get the ball rolling on our priorities. Keep an eye out for the next series of Comment Spots as other Cabinet Members give you an insight to the work they're doing in and around the borough.