A day in the life of the Cycling Champion
Date: Tuesday 18 September 2018
Author: Councillor Gareth Richards
Title: Cycling Champion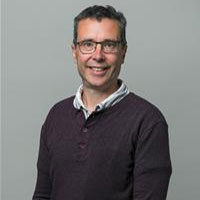 As the borough's Cycling and Walking Champion, I'm passionate about getting more people in this borough to make cycling and walking a part of their day-to-day life.
Last month (15 August) we marked National Cycling to Work Day. If you took part, I hope it inspired you to carry on cycling. I was inspired a year ago to attempt cycling to work by a photo essay written on a work bulletin board, but I do more often than I would like just cycle to the station.
Before setting off, it is important to have suitable equipment and clothing. My bike is a hybrid bike with gears and panniers for carrying luggage. The best feature this bike has over my previous ones is the disc brakes which work well, even in wet conditions.
So here we go, starting at Ham Pond I head off down Ham Gate Avenue. At this time of the day the road has very little traffic. After entering Richmond Park, you have the steepest hill on the route to climb.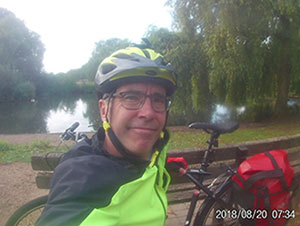 At the top of the hill, you have a wonderful view of our very own version of the Serengeti. If you have never been to Richmond Park this early in the morning, you don't know what you're missing. The path over the top is shared with walkers, but this time of the morning the odd deer is the only creature you share it with. The deer, of course, have right of way.
After exiting the park, I am on Priory Lane. The speed limit here is 20mph but is widely ignored. There is a cycle path there. Unfortunately, it does not have priority and stops in rather poor location, squeezing the pedestrians into a tiny narrow path. This path could be so much better.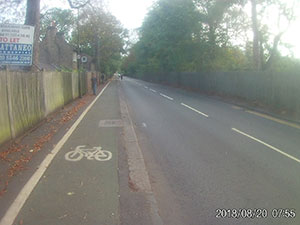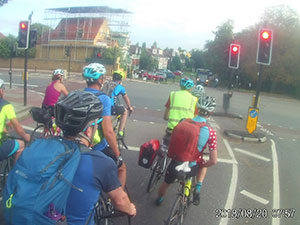 After the relative safety of the park, we briefly join the South Circular Road before heading down the Lower Richmond Road to Putney. There is little option here other than cycling at the side of the road.
On almost every journey in London, you are going to cross the river. Putney Bridge is my crossing point. Part of my work as the Cycling Champion is to advocate for better infrastructure to make cycling easier and safer for people in this borough. Bridges are natural congestion places where cars, bikes, buses and people must cross at the same place. In an ideal world there would be protected spaces for cyclists across all of London's bridges, but it is not perfect here and I'll be advocating for improvements.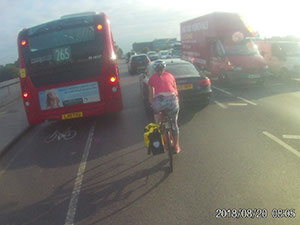 After travelling through the roads of Chelsea, I have got to CS8. Although often criticised as only a piece of blue coloured tarmac, the path is wider and better designed than most other cycle paths and certainly more pleasant than no cycle path at all.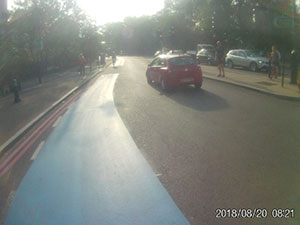 After manoeuvre round The Houses of Parliament, I have reached CS3 which is a fully properly protected cycleway next to the river. The importance of this section of cycle way cannot be understated. If it did not exist, I would get the train to work. Routes like this have propelled the increase in cycling in London, providing a safe and efficient path across the city.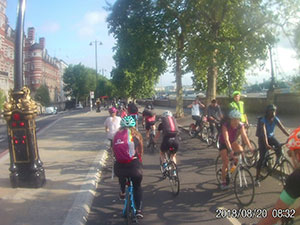 Finally I reach my destination, Bank. Here things are not as they used to be. Cars have recently been banned from Bank junction and pedestrians and cyclists are much safer now.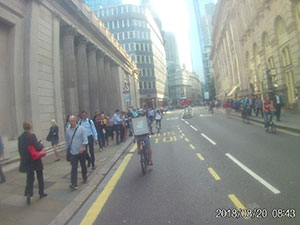 So that is my journey. I have cycled through five boroughs on every kind of cycling infrastructure London has to offer.
What should we do in Richmond? We can see that improvements in cycling infrastructure in Richmond have an effect outside borough; for example, having quiet ways like new Ham Quiet Way linking Richmond Park and Teddington will encourage parents to take young children to cycle to the park along the safe route, rather than load their bikes into cars and drive to the park.
Whether you own your own bike or are using the Brompton or ofo bikes we have available in the borough to complete part or all of your journey, I hope you consider making cycling a bigger part of your commute. As you can see, you get a completely different point of view of the city. Not to mention that it's good for you and it's good for the environment.
If you are a regular commuter by bike and have thoughts or suggestions on how we can improve your journey through the borough, please get in touch. You can contact me through my social media, by phone or by email. I look forward to hearing from you.