Great start to Mayoral year
Date: Tuesday 18 December 2018
Author: Mayor, Councillor Ben Khosa
Title: Mayor of the Borough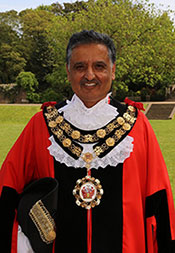 We've got off to a great start with our fundraising events. I say we because it really is a team effort involving the Mayor's full support staff, and all manner of council officers who work behind the scenes to deliver the events we hold in support of the Mayor's charity.
We've had some great support in our fundraising efforts from young council officers with Joe Fisher doing the ride London bike ride, and Will Owen and Michelle Beaumont doing the Thames Meander marathon and raising around £1,500 for the Mayoral Charity.
Meanwhile, recently the Mayoress and I went Carol singing with Cole Park Road Residents' Association and they collected going onto £500 in aid of Refuge. Riverside Councillors have kindly donated around £500 at their disposal and Waitrose have contributed around £700, and many more have given personal donations of money or prizes for raffles. My first six months have been simply amazing.
I've met so many wonderful people, some organised into admirable societies or associations, some professionals and a lot of volunteers. The common theme is that they're all doing amazing work for the different areas they live in and all helping knit together and bond communities around the borough and making it the truly wonderful place it is. I am so amazed and grateful to the many admirable volunteers in our borough. I also had the honour of receiving Prince Charles at Kew Gardens.
I've met some truly wonderful and full of beans young children, and been to some of our excellent schools. I have no doubt in time some of these young people will be real high achievers and success stories of their day, and surpass many previous benchmarks.
With this being the centenary commemoration year of the ending of World War One, it was moving to see the borough remember and to be a close part of the way in which the communities up and down the borough remembered those who gave their all in the years of conflict.
During these events I have come to realise how lucky we are in the borough to be home to some genuinely extraordinary people who displayed unwavering valour, skill, strength, courage, determination and devotion to their country in its hour of need. 
I look forward in the next six months to doing some more high-profile events like a sky dive, accompanied by some council officers and councillors, to raise money and awareness of the work of my Charity Refuge Richmond, try and further help improve an already delightful borough and perhaps help put a smile on an elderly or vulnerable person.
I am truly honoured to have had the good fortune to be living here and being Mayor this year.
Wishing you all a very Merry Christmas!