There is no taboo around mental health at Richmond Council
Date: Wednesday 10 October 2018
Author: Councillor Gareth Roberts
Title: Leader of the Council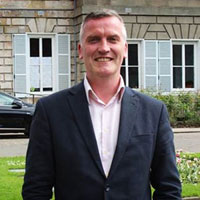 Did you know that one in four of us will experience mental health problems at some point in our lives? Well today (Wednesday 10 October) the World Health Organisation will be marking World Mental Health Day. I thought it would be a good opportunity to reflect on this important issue – one that all too often, people don't discuss with their doctor as they feel embarrassed or ashamed. 
Though World Mental Health day has been in existence for over 25 years, it is only in recent years that there has been a move towards giving the same prominence to mental health conditions as is given for physical wellbeing. This is a welcome step. For too long there has been a stigma attached to mental health conditions; until very recently admitting to having a mental health condition was seen as a sign of weakness, an indicator of some lack of moral fibre and, all too often, a form of self-indulgence. Nobody would dare suggest to somebody with cancer that they needed to pull their socks up, but this metaphorical remedy was all too readily the prescription of choice for people with common mental disorders such as anxiety or depression.
It is right, therefore, that we are now giving due consideration as to how best we tackle both the symptoms and causes of mental health conditions.
In Richmond we are fortunate that we have the Richmond Wellbeing Service to help those experiencing problems with their mental health. They offer a range of advice and therapies covering a range of problems including, but not limited to, anxiety, panic attacks, bereavement, OCD and Post Traumatic Stress. The service is free, confidential and is open to anybody aged 18+ that has a Richmond based GP or family doctor.
We should not lose sight of the issue of mental health provision among our children. Indeed, the rise of reported mental health conditions among young people is why this year's World Mental Health Day has 'Young People and Mental Health in a changing world' as its core subject.
It is a worrying statistic that half of all mental illnesses begin by the age of 14 and without urgent action taken to address this, the trend is likely to increase. We need to help build mental resilience among our young people from an early age. While of course we as a Council offer support to our young people through our Child and Adolescent Mental Health Service,  we are fortunate that the borough is home to Off The Record, a free and confidential counselling walk in service which does outstanding work in helping some of our vulnerable young people.
The issue of mental health is one which all councils should be addressing as a priority. As a newly formed administration we will do whatever is within our power and budget to help those who need it.
My final message to everyone is please speak to your doctor if you are concerned about your mental health. You owe it to yourself. Everyone deserves to have the ability to live up to their full potential and be able to achieve success and happiness.