A-level results day, a source of celebration and disappointment
Date: Monday 12 August 2019
Author: Councillor Gareth Roberts
Title: Leader of the Council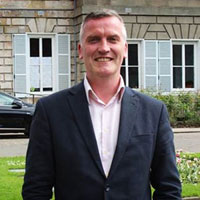 Thursday is a day which young people across the borough will be eyeing with senses of hope and dread in equal measure because Thursday 15 August 2019 is A-level result day. On Friday, the front pages will be full of students, jumping in the air waving their results papers. But it is not a day of universal celebration, for some of our young people there will be a degree of disappointment.
To those who do well, congratulations. To those who don't get the expected grades please be assured it is not the end of the world. I know because I was one of the disappointed ones.
Contrary to the chippy assumption of a former councillor, I am not an alumnus of an Oxbridge college, in fact my A-level results fell far short of expectations. With the notable exception of General Studies, which let's face it was a paper on which an exhumed corpse could have scraped at least a C Grade, my grades were uniformly poor. English Literature was a notable casualty, the result of forcing a chap to grind his way through the stultifying dullness of Wuthering Heights, History fared little better and the less that is said about my rather woeful foray into the world of A-level economics the better for all concerned.
The dream of going to Manchester to study History of Art, for which I had been given a staggeringly low offer of three C grades, vanished like the dew on the morn. I threw myself on the mercies of the clearing system and a month or so later washed up on the familiar shores of St Mary's College, Strawberry Hill.
Of course, it is possible to look back on this all now with a degree of breezy cheerfulness, rather like those people who write awful doggerel verse about how they grew up being clipped round the ear by the local bobby on an hourly basis and eating corned beef out of tins that you opened with a key 'but they still turned out OK'. However, there was a degree of pain about it at the time, but I honestly don't recall it being on the scale that we read about now.
It is not an exaggeration to say that we are facing a youth mental health crisis nationally. Of course, there are many factors, which come into play, but the relentless pressure to achieve academically is surely a contributory factor. The Council is doing what it can to provide resource to offer support and our local charities, such as the excellent Off The Record, do an astounding job in offering counselling and advice.
But society also has a massive role to play. Of course, we should encourage our young people to do as well as they can but it must always come with the reassurance that it is OK if things don't quite go to plan. We have to ask ourselves whether the perpetual striving for excellence, the fetishisation of league tables, and perpetually reaching for that which is often unattainable is really in the best interests of our young people. Unless we ask ourselves these fundamental questions we are storing up real problems for the future.
So, again, if on Thursday you get the grades you want, congratulations. If your grades are not what you were hoping for just remember that there will be other opportunities and other choices; I know, I have been there. Things will be ok!