Join the culture festival spirit this autumn
Date: Monday 9 September 2019
Author: Councillor John Coombs
Title: Vice-chair of the Planning Committee Spokesperson for Arts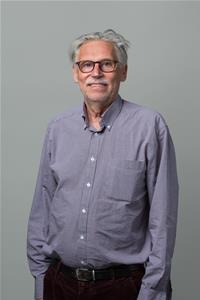 Unlike many other London boroughs, Richmond upon Thames has continued to provide libraries at the centre of our communities at twelve locations. As a result our residents continue to borrow more books, either in person or downloaded, than in many other areas.
However, libraries are more than book depositories. During September the annual 'Know your Place' festival is been running at various libraries and historic locations. There is still time to check out what is happening somewhere near you. These talks, on a variety of local subjects, are by notable historians and to give a flavour of what is still to come here are a couple of examples:
Plan your family history – a beginners guide workshop on Friday 20 September from 2.30 to 3.30pm
Terry Smith will be talking about Strawberry Hill House before, during and after its restoration on Wednesday 25 September. Doors open at 6.30 for 7pm; tickets £8 in advance or £10 on door - Riverside Room
Dr. Annie Gray on the Eating Habits of Queen Victoria will be speaking at Richmond Old Town Hall on Thursday 26 September from 7.30 to 8.30pm; tickets £10
The easiest way to see the programme and book tickets is online.
Once staff have recovered from this festival, they will be immediately joining up with colleagues in the Arts Service at Orleans House Gallery to present the Richmond upon Thames Literary festival in November (RichLitFest2019). The box office will open at 10am on Tuesday 1 October. If previous years' experiences are anything to go by, at least as far as those I wanted to attend, tickets sell out fast, so the early bird…………
It's important that our festivals are part of our communities so venues, often in libraries, are across the borough. The programme includes an imaginative Children's Festival which has grown in strength over the last few years.
What I hope is that residents who have not yet been will be introduced to the stunning Orleans House Gallery. This home to the borough's Art Service is set in a woodland garden by a park next to the Thames in Twickenham. It is a great place to spend an afternoon, if not longer perhaps, soon with a re-opened cafe. Housed in what remains of an 18th century riverside mansion (home to French royalty in exile) two art galleries run exhibitions throughout the year. Some of these will be themed around works from the borough's art collection which enables the public to see paintings otherwise kept in storage.
There are regular art sessions, some free and two art clubs for young people Wednesdays for 9 to 14 years and Thursdays for 5 to 9 years. These are just a taster of what is available! With so much more – there is something for everyone!