Are our local businesses ready to fight climate change?
Date: Tuesday 20 August 2019
Author: Councillor Geoff Acton
Title: Spokesperson for Business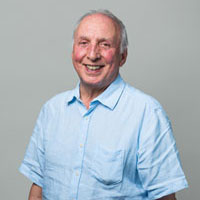 Right now, we're facing a man-made disaster on a global scale. Our greatest threat in thousands of years: climate change. If we don't take action, the collapse of the world as we know it and the possible extinction of much of the natural world is on the horizon.
There has been mass media coverage that has told us that at the current rate we are going, global warming will have caused irreversible damage and increase climate-related risks to health, livelihood, food security, water supply and with that, economic growth. 
Over the next few months we will be launching an in-depth conversation with residents and businesses across the borough about climate change. Helping people to understand the impact of climate change locally, and importantly, what we can all do to make a difference. Businesses are not exempt. Businesses must step up and play their part.
There are things that every business can do to make a difference. Therefore, I challenge all of you, either as a business owner, staff member or customer of a local business – take note and challenge. Next time you are in a shop, café or office – ask them 'what are you doing to help save our planet?'. If they say nothing, it is your right to ask, 'why not?'.
There are hundreds of blogs and free online resources to help businesses prepare and do their bit. But here are a few simple steps that all businesses should be considering.
Measure your carbon footprint
You can't change what you can't measure. It's imperative to measure how much greenhouse gas emissions your business generates annually. There are many free resources online that can help businesses measure their carbon footprint. And, when you know your footprint, you can develop a climate action plan.
Rethink your waste
Waste has become a major problem in today's society. It's virtually impossible to eliminate all waste, but think about ways you can cut down: eliminate paper handouts or don't provide bottled water. You might even consider a company-wide ban on single-use water bottles.
Waste reduction also makes good business sense as it reduces the costs associated with both purchasing and waste disposal. While you're cutting back, keep in mind that recycling is a simple way to make a big impact.
Reduce your travel
Travel, especially air travel, wreaks havoc on the environment. Video conferencing technology has improved substantially over the past few years, making it easier than ever to connect with co-workers around the globe.
Reducing the number of cars on the road also cuts back on gas and emissions. Why not encourage eco-transport and offer incentives for employees that commute via carpool, public transport or bicycle travel.
Additionally, you can offer employees loans to purchase their own electric vehicles.
Choose environmentally conscious suppliers
If you are a small business which wants to fight climate change, find other businesses and organisations that want to too. Take a look at your supply chain. Who are your providers and what do they do to reduce their carbon footprint?
Using local vendors for catering and supplies not only supports your local economy and other small businesses, it also cuts back on shipping, gas, manufacturing, and logistics.
Save energy
Electricity, heating and cooling are all traditional sources of carbon emissions. Improving energy efficiency is an excellent way to reduce your carbon output. Also, how many of your computers and appliances remain on when no one's around?
Careful use of technology and appliances not only saves energy, it'll also save you some coin when your monthly bills arrive. You may also consider installing smart thermostats, which allow you to set your thermostat remotely and create temperature schedules for various times in the day.
Finally, LED light bulbs consume at least 75% less energy.
I know that many local business owners will be saying that 'this is all great but we can't afford it!'. Well, there are a number of grants and funding streams that businesses can apply for.
The Energy Entrepreneurs Fund is a grant funding programme to support the advancement and presentation of cutting-edge technologies, processes and products in the core sectors of power production, electricity and heat storage and energy efficient.
Sustainable Routes an environmentally-friendly project that helps businesses in reduce the cost of business travel.
Green loans from Barclays can be used to fund a range of environmental and sustainability projects spanning areas including energy efficiency, renewable energy, green transport, sustainable food, agriculture and forestry, waste management and greenhouse gas emission reduction.
The Carbon Trust Green Business Fund is the energy efficiency support service for small and medium-sized companies in England, Wales and Scotland. It provides direct funded support through energy assessments, training workshops, and equipment procurement support - available for a limited period on a first come, first served basis.
And there are many, many more.
So, as my final word, the time is now. We all love our borough for its beauty. The borough's balance of country versus city. We all need to work hard to protect this. Yes, the council has a role to play. But without everyone in the borough playing their part I fear we can wave goodbye to our beautiful borough as we know it!
Sign up now to receive more information on our climate change consultation and engagement this autumn.