Becoming a greener borough
Date: Tuesday 26 February 2019
Author: Councillor Martin Elengorn
Title: Cabinet Member for the Environment, Planning and Sustainability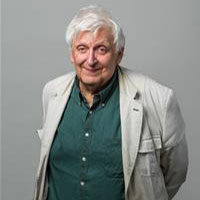 We are in the middle of the warmest decade on record and the consequences are apparent locally and worldwide. If you garden you will have noticed little or no gap between autumn and spring, leading to some plants flowering or fruiting earlier. This may seem harmless or even beneficial but the absence of a real winter means that many pests and diseases are more widespread. We also know that climate change is increasing the risk of more frequent or severe flooding locally as well as globally.
The current rapid climate change is man-made and can therefore be limited and mitigated by our actions. The UK, along with 178 other countries, has recently agreed to work to try to limit the global average temperature rise to 1.5 degrees above pre-industrial levels. This will be difficult but not impossible and the consequences of failure will be very serious.
Locally the Council has already committed to becoming a greener borough. On climate change, we want to lead by example. That's why we are developing a local climate change strategy which will set out how we will:
Further reduce carbon emissions from our own operations
Be more efficient in our use of resources
Make sure the contracts we procure are environmentally friendly
Improve the resilience of our borough to cope with predicted changes in climate
Plant more trees and safeguard those we have
We also want to influence key sectors including buildings, transport and waste, which together account for 40% of UK emissions. We've already taken steps to do this, for example through the introduction of electric vehicle charging points, and through our anti-idling strategy. With higher housing targets it is more than ever important that construction and completed buildings are as sustainable as possible and our planning policies reflect this. We believe our plans for a 20-mph speed limit on most roads in the borough will encourage a transfer to walking and cycling.
We also want to integrate wider sustainability issues which indirectly impact climate change, such as reducing waste, improving air quality and protecting the biodiversity of our borough.
But we can't do this alone. We want to work with businesses and residents to help everyone to live in a more climate friendly way. For individuals the benefits include warmer homes, lower energy bills, healthier lifestyles and cleaner air, while for businesses environmental efficiency is closely linked with cost and brings opportunities for innovation.
We also want to provide a strong voice against current threats to our ability to tackle climate change.
The Government's decision in favour of a third runway, which we and other Councils are fighting in the courts, would make Heathrow the largest source of carbon emissions in the country undermining attempts to limit climate change. Combined with Heathrow's desire to introduce a further 25,00 flights a year even without a third runway it would also blight our neighbourhoods with unacceptable noise levels and additional air pollution.
The EU's legislation and funding has played a vital role in shaping the UK's climate change policy. The potential impact of Brexit is still unclear, but we must remain vigilant about any attempt to lower environmental protections.
You can expect to hear more about our emerging climate change strategy in the coming months. In the meantime, if you want to do your bit to live in a more climate friendly way, read top tips from the Energy Saving Trust.
Updated: 30 December 2019