Cycling towards zero carbon
Date: Tuesday 24 September 2019
Author: Councillor Gareth Richards
Title: Cycling Champion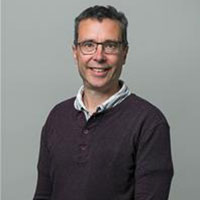 This summer I had the pleasure of visiting the Belgian city of Bruges. The city of Bruges has many medieval delights to entertain a visitor and many cycle friendly features. As a result, there are plenty of people on bikes in Bruges and refreshingly a larger number of older people biking than you find in London. It's not hard to see why. Bruges has a large number of protected cycle lanes and roundabouts designed to keep cyclists safe. In some places the cycling infrastructure is on an epic scale. I was particularly impressed by the creation of a safe cycle route by constructing a bridge over the top of the roundabout. The high rates of cycling observed in Belgium and the Netherlands have been achieved by investing in cycling infrastructure. Given that London has similar weather and terrain there is every expectation that increased provision for cycling in London will result in similar increases in participation in cycling.
Last month Richmond Council endorsed motions calling for a climate change emergency to be declared, launching a consultation on the borough's future strategy and hosting a climate change summit. As part of our climate change strategy the Council is requesting that residents walk and cycle round the local area rather than drive.
These challenging emission targets will not be hit without fundamental changes in the way we move around our city. Fortunately, active travel is, apart from the increased CO2 emissions caused by heavy breathing, virtually carbon free. The zero carbon goal will require a huge increase in cycling and walking, combined with a corresponding large decrease in car usage. If this happens what secondary benefits might we also see?
Recent research estimates that air pollution from cars results in the premature death of 40,000 people per year and it is estimated the NHS spends £1bn a year on asthma treatment alone. These tragic statistics indicate the current transport status quo is economically and environmentally unsustainable. Car traffic must be reduced to improve air quality for our generation and those of the future.
In the space required for 1 car parking space you can park 10 bikes. Our congested city, which is expected to grow in population, cannot be further engineered to cope with more cars. By replacing cars with bikes and walking can reduce congestion for everyone.
There are considerable health benefits to the individual cyclist too. Physical inactivity has been listed as a leading cause of preventable diseases and conditions such as type-2 diabetes, some cancers and osteoporosis. Adding active travel to your daily routine is a great way to increasing your physical activity, a key determinate of good health. A physically active lifestyle, including walking, cycling or participating in sports, reduces the risk of coronary heart disease and stroke and promotes good mental health. Cycling improves your balance, builds your muscles and because it's low impact has lower injury rates than running.
You can help us towards our zero-carbon goal now! All you need is a bike - no fancy clothes or other equipment are required and it's fun.
Find out more