Date: Tuesday 02 April 2019
Author: Councillor Robin Brown
Title: Cabinet Member for Finance and Performance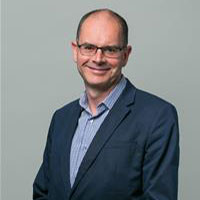 As council tax bills land with an unwelcome thud on doormats around the country what better time to stand back and reflect on why bills are going up, what residents are getting for their money and what we can expect in the future.
Let's look at the background first. Councils are responsible for a little over 20 per cent of government spending. They use that spending to deliver many of the services that matter most to people everyday: adult social services, children's social services, housing, waste collection, maintaining local streets and pavements, managing the parks and libraries and also fire, police and transport (the latter via the London Mayor in our case). Councils can have a significant influence on both the look and the economy of the local area through their planning policies.
Some of the money for this is raised locally – from council tax, a share of the business rates and charges and fees for services. There also, however, needs to be some way of balancing out needs around the country. Areas of high social deprivation may have high needs and less ability to raise money. It can cost more to deliver services in rural areas. Densely populated cities bring their own challenges.
The government is having a re-think about how this balancing out is achieved, called the 'Fair Funding Review'. We believe the current way of doing it works against Richmond upon Thames. Even a low deprivation area needs to empty everyone's bin and maintain streets and pavements. So, we will argue strongly for a fairer 'share of the cake'.
A genuine 'New Deal' for local government requires the cake to get bigger and the government 'Spending Review' will decide that. Core government funding will have declined by £16 billion from 2010 – 2020, or by 60p in the pound. Years of austerity have made councils more efficient, but also had real frontline impacts– children's centres, youth services, libraries, parks, rural bus services have all seen cut backs across the country. This explains why councils have been forced to increase council tax to protect services as far as possible.
Another government review might move the goalposts. It's been obvious for years that as a country we need a better way to fund adult social care so that we can properly meet the needs of increasing numbers of elderly people. It's also been obvious this should be better joined up with NHS services. The government has promised to set out a new way forward in a 'Green Paper' but has delayed publishing it. As with many things Brexit seems to have put it on the back burner.
Your Lib Dem Council is determined to stand up for you in this uncertain environment. We'll argue the case for improved local government funding. We'll argue the case for a fairer funding formula for Richmond upon Thames. We'll argue the case for proper funding of special needs education, to close the £5m per annum gap that is so damaging. And we'll look forward to engaging in the debate about how adult social care is funded.