Date: Monday 17 June 2019
Author: Councillor Penny Frost
Title: Chair of Education and Children's Services Committee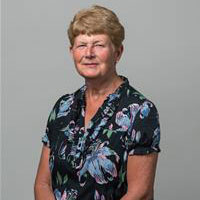 The theme for this year's Learning Disability Week (17 to 23 June) is Sport and Inclusion, which is a wonderful reminder of how our young people can be encouraged to enjoy sports together and explore all the ways in which we can work inclusively to ensure that no-one need be left behind.
A recent survey by MENCAP revealed that one in three young people with learning disabilities can find themselves spending less than one hour outside their homes on a typical Saturday, while half of those surveyed would like to be spending more time outside their homes. 20% of those surveyed feel alone and left out of social activities. This is a picture of social isolation that we must tackle for the mental and physical well-being of our learning disabled young people.
Sport and physical activity can reduce loneliness and isolation, as well as having an evident effect on health and well-being. Sport as a shared activity is a perfect way of improving attitudes and challenging negative views towards people with learning disabilities.
Thinking nationally, the 2012 Paralympics in London were an astounding success, and challenged all our expectations of what can be achieved by elite athletes with disabilities. Ex-servicemen participating in the Invictus Games, whose lives have been shattered by sudden life-changing injuries, show how they can retrain physically to use their strength and will-power to achieve great sporting feats, in everything from mountaineering to wheel-chair basketball. Their achievements stand as a testament to bravery, and a great role model for young people to be encouraged to take up challenges they might previously have thought impossible.
But we don't need to look further than the achievements of our young people in their school sports activities to know what grit and determination youngsters can bring to sport, to set high targets for themselves and achieve them. Our local schools celebrate inclusive sports, and the Borough Sports on Wednesday 5 June was a splendid occasion which brought all our young people together, competing to the best of their ability. I was delighted to be asked to present medals for the inclusive 'Team 1000' events at the Borough Sports, where our young people with disabilities took every opportunity to shine at their chosen sports.
Music is a great opportunity for social inclusion. I was invited to join Clarendon Primary special school to celebrate their birthday party for their first year in their new premises. We watched the children singing and signing together, and then dancing superbly to some very moving music, choreographed by Combination Dance. There was real talent to showcase, and the youngsters were rightly proud of their achievements. To see more of what Clarendon pupils can achieve, track down their film 'Our Little Dreams' on the school website. We are lucky to have charities such as 'Skylarks' (previously MeToo&Co) in the borough, with skilled helpers dedicated to supporting inclusive and creative activities for children with learning disabilities to enjoy.
The Otakar Kraus Music Trust (one of the Mayor's chosen charities this year) provides music therapy and music projects for children, young people and adults with physical, learning, neurological or psychological difficulties, teaching musical instruments and singing for pleasure and performance. The group, Singing Hands, provide resources through videos and DVDs to support children learning to sign and sing all sorts of songs from nursery rhymes to pop.
Within the borough we also have TAG Youth Club, where older young people with a range of disabilities can meet up with friends to take part in stimulating and fun activities and learn social and life skills. They are planning to increase their geographical spread with a mobile youth centre which will reach many more parts of the borough – check out their website! And the Marble Hill Playgroup is a great option for those parents looking for inclusive playgroups.
We don't want to read surveys showing that young people with learning disabilities are stuck at home on Saturdays feeling isolated – we want them out joining with their peers as much as they can. So, if your children take part in a weekend sports or social activity for young people, here's your challenge – with all the creative resources and support available to us in this borough, how can you help to make your children's activities more accessible, so that all our young people can make good friends and enjoy great social activities at the weekends as well as at school.