Date: Wednesday 2 January 2019
Author: Councillor Gareth Roberts
Title: Leader of the Council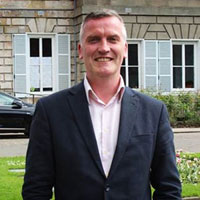 Happy New Year, everybody.
As we take the first tentative steps into 2019 perhaps now it would be appropriate to look forward to some of the challenges and opportunities which will present themselves in the coming year.
One of the early tasks will be to take forward the findings of the consultation to deliver on our manifesto commitment to create a borough wide 20mph limit within the borough. As you will be aware, we have recently completed the consultation which took place over the final three months of 2018; the consultation was never a referendum on the principle of making our roads safer. What the consultation did was allow a critical opportunity to hear resident views, understand any perceived drawbacks and to act in a way that best addresses the breadth of views we will have undoubtedly received.
I'm pleased to say that this isn't an issue on which the council is divided, all three parties represented on the council are supportive of the policy of introducing a borough wide 20mph limit. More information about this scheme, which we hope will make our streets safer and encourage more active travel choices for local residents, will be released in the next few months.
2019 will see the first Liberal Democrat budget in the borough for a decade. As a borough we are not immune from the financial pressures which affect the rest of the country and there will no doubt be some difficult decisions which need to be taken. Budgets are never popular, but we hope that we'll be able to deliver positive outcomes.
Throughout the last months of 2018 we completed a marathon programme of Community Conversations, holding town hall meetings across the borough featuring panels of councillors from all parties and answering questions on the subjects you found important. In 2019 we will be looking to build on the success of those meetings, see how they can be improved and continue the conversation with local residents about the issues which matter to them.
Of course, one of the big challenges of 2019 will be delivering a new brief for Twickenham Riverside. We've already made good progress in bringing together various community groups in our stakeholder reference group. We will shortly be appointing our technical experts, including the RIBA Advisor.  This has been a long running issue within the borough and we hope we can create something genuinely special for the heart of Twickenham
Finally, Brexit. At the time of writing this, nobody knows how Brexit will play out. Will it be Deal, No Deal or No Brexit at all? Speaking personally, I'd prefer to see no Brexit at all. If the last couple of years have shown us one thing it is that the government is woefully under-equipped to deliver any sort of Brexit which will deliver on the promises which were so liberally, and mendaciously, plastered on the side of that bus. Whatever the outcome, I'm sure that we as a council and a community will come together to face the challenges which emerge, both for UK citizens and those citizens of the EU27 and EEA states which have made this borough their home.
Richmond Upon Thames is a great borough to live in, love in, learn in, play in, shop in and far more besides. Together, whatever challenges may be thrown at us and whatever opportunities arise, we will continue to make it the best borough.