More understanding of children's mental health
Date: Tuesday 5 February 2019
Author: Councillor Penelope Frost
Title:  Cabinet Member for Children's Services and Schools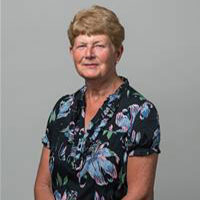 With Children's Mental Health Week this week (4-10 February), charities in the mental health field are encouraging us to become more understanding of the mental health needs for ourselves and our children.
Depression is being diagnosed now for young people, and its potentially far-reaching effects may not be fully recognised. MIND explains that depression is an everyday experience which affects people in many different ways. It can last for a long time, taking a toll on your everyday life. In its mildest form, depression may mean just being in low spirits. It doesn't stop you leading your normal life but makes everything harder to do and seem less worthwhile.

At its most severe, depression can be life-threatening because it can create suicidal feelings. We have recently heard in the news about a 14 year-old girl whose parents believe became drawn to suicide by the material she was reading on Instagram. As our young people can be so influenced by negative social media on body image and other issues, it is more and more important that we challenge anything which is damaging to our young people.
So exactly how much of an issue is mental health among young people? A recent NHS survey across the UK indicated that in primary schools, one in ten 5-10 year olds could be identified with mental health issues, with boys about twice as likely to as girls to have a disorder. This rises to one in seven 11-16 years olds, with girls more likely to suffer anxiety and depression, and boys a behaviour disorder. By age 17 this rises to one in six young people, of whom one in four will be girls.
That's clearly very concerning. However, there has been much greater awareness recently on mental health issues for school-age young people.
Some of the causes for this increase have been identified as the pressure from school exams and the power of social media to affect the self-image of young people -particularly girls, but boys as well.
Our council takes this very seriously, and currently our secondary schools have engaged in our council-funded mental health project, offering
Awareness raising
Training for staff
Direct work to support students
Workshops for parents
In addition to offering exam stress and anxiety management workshops to students in Year 11 and 13, the project offers workshops to parents of young people in Year 11 and 13 to share support strategies for exam stress and anxiety to minimise the stress and anxiety most young people face during exam periods. The input is delivered by one additional mental health clinician in the Emotional Health Service who is dedicated to the project. Targeted work has also been introduced for parents of young people with identified mental health needs (e.g. group for young people who self-harm, identified with anxiety, depression etc.) to enable parents to support their children with self-help strategies to build their resilience.
An additional feature of the support offered through this project includes recruiting and training mental health ambassadors (student volunteers) who have held termly events to raise awareness on mental health issues within schools involving the whole student body.
In some schools the Ambassadors have run friendship groups for vulnerable Year 7 students as part of early intervention, a prevention strategy to promote healthy attachment to school and minimise the adverse impact of anxiety and loneliness on the educational aspirations of young people. 
Fostering mental wellbeing in our children means they are better equipped to cope with adversity, they experience fewer behavioural problems, have reduced levels of mental health disorders in adulthood, have a lower risk of suicide and improve overall health.
Mental wellness also leads to improved educational outcomes, healthier lifestyles and reduced health risk behaviours such as smoking and harmful drinking. It also results in increased productivity and reduced burnout at work, higher incomes, stronger social relationships, increased participation in our communities and reduced anti-social behaviour such as crime and violence.
If you think your child is suffering from poor mental health, and you and they need support, then you should contact the Single Point of Access.
My pledge for our council is that we will continue to support mental health initiatives for the young people in our schools and community, to help them achieve the happiness and good health which all our young people deserve.
Where to get help
If you are someone you know are in imminent danger, don't hesitate please call 999.
If you are not sure what to do or just need to offload and talk to someone about your problems, then you may find one of these national helplines useful:
Samaritans
Address: Freepost RSRB-KKBY-CYJK, PO Box 9090, STIRLING, FK8 2SA
Telephone: 116 123
Website: www.samaritans.org
Email: jo@samaritans.org
Rethink
Telephone: 0300 5000 927 - Monday to Friday, 9.30am to 4pm
Website: www.rethink.org
Email: info@rethink.org
Mind Infoline
Telephone: 0300 123 3393 - weekdays 9am to 6pm
Website: www.mind.org.uk
Email: info@mind.org.uk