So many ways to get cycling
Date: Tuesday 02 April 2019
Author: Councillor Gareth Richards
Title: Cycling Champion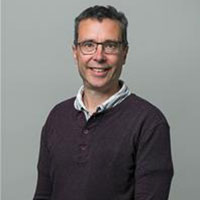 This month schools in Richmond participated in the Big Pedal challenge (Monday 25 March to Friday 5 April 2019). A challenge to increase the number of children walking, scootering and cycling to school. While it only ran for two weeks it can have a lasting effect on the way children travel to school by showing parents what is possible and how easy it can be to leave the car at home for a few extra journeys a week. Thirteen of the borough's schools registered for the challenge. A big thank you to everyone who took part and everyone who helped organise this.
If you feel left out because you missed the Big Pedal. Why not try shopping by bike? I hate to spoil the image of cyclists as lycra-clad people going out on their bikes just for a bike ride, all you require is normal clothes and some bags. Replacing short journeys by car with bikes can significantly reduce the congestion on our roads. Instead of parking far from your destination, you can park for free on a nearby bike stand. Cycling is good for your health and does not generate any pollution.
For my shopping trips I like to expand the luggage capacity of my bike by adding panniers. My panniers are over 10 years old and despite very heavy usage still water proof and not falling apart. As you can see, I can carry quite a lot of stuff.
Those who cycle to shops too and spend as much money as those who come by car. Shops can play their part in encouraging bike use with well located bike stands outside stores and most supermarkets already have done this. These attract customers who are able to shop in the knowledge that their bike will be there when they come out. If you think a location near you need some more stands you can request some from the council here:
Not everyone has space to store their bikes in their house. We are working with CycleHoops to roll out secure bike parking near where you live.
For those of use with requirements to transport greater loads, cargo bikes have become an increasing common solution. These bikes are extremely flexible and with a bit of imagination can transport almost anything. Many cargo bikes are used to transport children, our most precious cargo, on journeys which would otherwise have to be done by car.
Transport for London (TFL) have recently suggested that their desire to move deliveries from Vans to cargo bikes. We are looking forward to working with TFL on this initiative.
As you can see it can be really easy to make cycling a part of your daily life, and I would encourage you to make the small changes which will have big benefits for your health, and the air quality in the borough.