International Women's Day
Date: 7 March 2022
Author: Cllr Julia Cambridge
Title: Vice-chair, Education and Children's Services Committee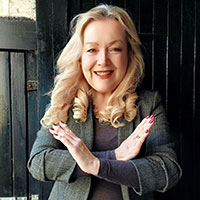 8 March signals International Women's Day – a global celebration of female success and achievements, and a poignant reminder of the struggles faced by women across the world in the march towards gender parity.
Each year recognises a separate but interrelated cause around gender equality, and this year, the theme is 'Break the Bias'. It invites us to consider a gender equal world, one free of bias, stereotypes and discrimination. A place in which diversity and inclusivity are cornerstones of our society. Where people of all marginalised genders could be valued and celebrated for their individual differences.

A world we create when we break the bias.

The driving force of International Women's Day is to challenge us all on the role we play in embedding positive progress into our everyday lives. And, for women, it's an opportunity to stand together as an international and intersectional community in solidarity with our shared experiences of womanhood.

For me, I have many memories of 8 March: there is a camaraderie, a special warmth when various text messages ping – and it's a female friend or colleague wishing you 'Happy International Women's Day!'. There's nothing performative about these greetings; they are a reminder of our strength collectively and our power to effect change.

And so, when those messages or greetings come in, I hope we are all challenged to think what we have done this week, this month, this year to tackle gender inequality, to both call it out and call for action to change it.

Looking back exactly four weeks ago, at the Brit awards, the singer Adele triumphed in three music categories – with the top accolade being Artist of the Year. But something changed this year. For the first time, this was a gender neutral category. In the act of, as it was later clarified, making the event 'as inclusive and relevant as possible', Adele's talent shone through and gave us a glimpse of a world where prejudice and bias are not welcome. Where equality mattered. And where women's success was not in spite of their gender, but because of the strength and power it gave her.

Let's look forward to a day beyond 8 March where we break the bias for good.