As vaccination programme launches – Richmond Council reminds people to #KeepRichmondSafe
Release Date: 09 December 2020
Whilst the COVID-19 vaccine is rolled out in hospital hubs across London - Richmond Council urges people to remember Hands, Face and Space - as London is at risk of being moved to Tier Three.
Patients aged 80 and above who are already attending hospital as an outpatient, and those who are being discharged home after a hospital stay, are among the first to receive the life-saving jab. Hospitals are also beginning to invite over 80s in Richmond upon Thames in for a jab and work with care home providers to book their staff in to vaccination clinics.
Any appointments not used for these groups will be used for healthcare workers who are at highest risk of serious illness from COVID-19. All those vaccinated will need to return for a second dose 21 days later.
GPs and other primary care staff are also being put on standby to start delivering the jab. A small number of GP-led primary care networks will begin doing so during the following week (week beginning 14 December) with more practices in more parts of the country joining in on a phased basis during December and in the coming months.
The vaccine roll-out is in line with the Joint Committee on Vaccination and Immunisation (JCVI) guidance and a complex task, it will take time, so Richmond Council is asking residents to be patient and keep focused on observing the COVID-19 guidance so we can keep ourselves and families safe. As London is at risk of being moved to Tier Three restrictions, the Leader of the Council urges people to remember to current restrictions and keep Richmond safe.
Cllr Gareth Roberts, said:
"Clearly the development of a vaccine offers a real glimmer of hope to all of us at the end of what has been the most challenging year many of us have ever experienced.
"To be able to socialise again, to enjoy life without worrying constantly about COVID-19 is something I know we all want. The prospect of a vaccine means that all of this may be possible.
"However, we need to be absolutely clear; we are not there yet, and we won't be for some time.
"The NHS are leading on the vaccination programme, and the Council is supporting health colleagues on making sure they have all the support they need to identify suitable venues and all the access they require so they are ready to go.
"The logistics of this are complicated and the task is huge. So, we need everyone to be patient. The NHS will keep expanding the programme as they get more doses of the vaccine and people will be contacted when the time is right to come forward.
"As a Council, we made sure that our residents and staff have had access to COVID-19 testing throughout the pandemic and we will continue to do so over the weeks and months ahead.
"This is a marathon and not a sprint. We will continue to update residents on the latest with the vaccine but in the meantime, as the Capital is hurtling towards Tier 3, please continue to do your bit to protect one another - think Hands, Face and Space and remember to self-isolate and get tested if you experience symptoms. We need to all work together to keep Richmond upon Thames safe."
For more information about COVID-19, go to Coronavirus information.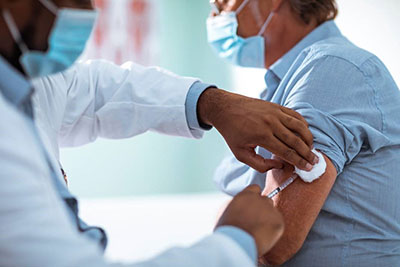 Notes for editors
If you are a journalist and would like further information about this press release, contact Elinor Firth on 020 8487 5159.
Reference: P489/20