Dispose of face coverings sensibly
Release Date: 01 December 2020
Residents are being urged to dispose of single-use face coverings properly, after a sudden increase in them being found littered in Richmond upon Thames' streets and parks.
With the rules currently stating face coverings should be worn in enclosed public spaces, such as supermarkets, indoor shopping centres and on public transport, Richmond Council is asking people to try and wear reusable face coverings in the first instance, and if single-use ones are worn, to dispose of them responsibly after wearing.
If you need to throw away used, single-use face coverings, you can:
Dispose of them in your general rubbish bin at home or at work, or a litter bin if you're outside
Don't put them in a recycling bin, as they can't be recycled
Take them home with you if there is no litter bin - don't just drop them!
Cllr Julia Neden-Watts, Chair of the Environment and Sustainability Committee, said:
"It is essential to wear a face covering when in an enclosed public space or on public transport, unless exempt. It is equally important not to drop face coverings on the floor after use.
"If you use disposable masks, put them in the bin when you get home. They cannot be recycled and must go in with your household waste.
"Alternatively, wearing a washable cloth face covering – preferably one bought from a local business – is an easy way to avoid having to use disposables altogether, whilst playing your part to protect others from the virus. The Big Community Sew and GOV.UK website have guidance on how you can make your own reusable face covering if you haven't bought one in a shop or online."
Watch our video with guidance on how to wear and dispose of your face coverings.
Please remember, if you think you have COVID-19 (coronavirus), you must separate your tissues, masks, gloves and wipes from your normal rubbish.
Double bag these items
Set aside for at least 72 hours
Put in your household rubbish bin
Don't put these items in your recycling bin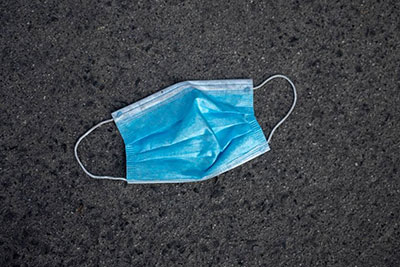 Notes for editors
If you are a journalist and would like further information about this press release, contact Elinor Firth on 020 8487 5159.
Reference: P475/20