Further funding for local businesses announced
Release Date: 04 December 2020
A further £3.96m pot of cash is now available for local businesses who have been impacted by the pandemic – with grants of up to £10k to be paid out.
Eligible businesses can now apply for the Council's discretionary Additional Restrictions Grant to help them manage the impact of the pandemic.
The scheme is aimed at businesses who have not been eligible for or received a grant or relief under any of the other Council administered COVID-19 financial support schemes, including the Small Business Grant, Extended Retail, Hospitality and Leisure Business Rates Relief or Local Restrictions Support Grant.
Grants will be awarded according to the level of fixed ongoing property costs:
For properties with a rateable value of £15k or under, a one-off grant of £2,000

For properties with a rateable value of over £15k and below £51k, a one-off grant of £5,000

For properties with a rateable value of £51k or over, a one-off grant of £10,00
The funding is aimed at supporting businesses with their ongoing fixed property-related costs for example, rental or lease commitments and this means it will not be available for those businesses run from domestic properties. Applicants must also be able to demonstrate that they have seen a significant drop of income due to coronavirus restriction measures.
The Council will undertake a series of checks on the information provided by businesses.
For more information, or to apply view Additional Restrictions Grant.
Cllr Robin Brown, Lead Member for Finance and Resources at Richmond Council, said:
"Many borough businesses have faced very serious financial challenges due to the pandemic and the lockdown restrictions. We have already paid out in excess of £44 million in grants to nearly 3,000 businesses, in addition to over £49 million in COVID related business rate relief covering over 2,000 businesses to help support those most in need.
"This is a new grant. And we will again go the extra mile to help as much as we can and process applications quickly.
"If your business is eligible, for example those businesses in the events industry or suppliers in the hospitality sector, then please apply via the Council's website and we will process payments as quickly as possible. We encourage people in Richmond upon Thames to spread the word and share the details of the scheme with those businesses they are aware of that might be eligible for support.
"This funding will be a hugely important lifeline for many of our businesses, and we will be working tirelessly to ensure that every single penny reaches those eligible as quickly as possible."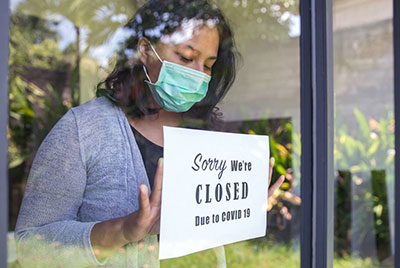 Notes for editors
If you are a journalist and would like further information about this press release, contact Elinor Firth on 020 8487 5159.
Reference: P481/20