New fund launched to get Richmond active
Release Date: 09 December 2020
A new £65,000 Active Richmond fund has been launched to help local community organisations and small businesses offer activities which boost health and wellbeing in the borough.
Voluntary and community organisations, and small businesses in Richmond upon Thames can now apply for a slice of the £65k pot to support Social Prescribing projects that enable people to become physically active to improve their health and wellbeing, whether this is becoming active at home or getting people outside and active through to joining leisure or fitness exercise and sports classes or participating in arts and parks activities.
Active Richmond has been created by Richmond Council to support local organisations to help build the suite of cultural, social and physical activities available via the programme.
Organisations who provide activities such as art classes, gardening, cooking, physical activity like dance classes, volunteering or singing are now able to apply for a grant of up to £5,000. For more information, go to Active Richmond Fund.
Cllr Piers Allen, Lead Member for Adult Social Services and Public Health, for Richmond Council, said:
"Our health is influenced by a wide range of social, economic and environmental factors, and Social Prescribing allows medical professionals to signpost patients to incredibly effective services in their community which can make a huge difference to their lives.
"We believe that community organisations are well placed for this work, and that access to these kinds of services and activities can complement the invaluable work being done by our doctors and nurses within the NHS.
"Across the country the NHS is rolling out Social Prescribing locally and in Richmond upon Thames, alongside the GP surgeries, we want to be a healthier borough and this will help us achieve that ambition. If you are a local organisation interested in applying – get in touch now."
The Active Richmond Fund also helps support Richmond's Social Prescribing service run by RUILs and the Community Independent Living service run by Richmond Aid, by enabling people they are helping, who need to get more active, have access to a rich menu of choices. This will enable people to find activities that is both appropriate to their need and interests them the most. Social prescribing is sometimes called community referral – helps people find ways to improve their health and wellbeing by connecting people to activities in their local area.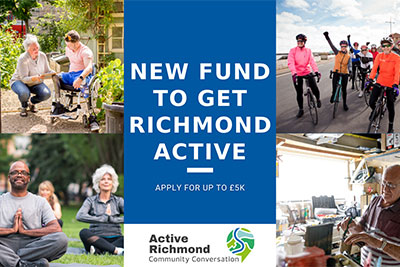 Notes for editors
If you are a journalist and would like further information about this press release, contact Elinor Firth on 020 8487 5159.
Reference: P487/20