Richmond joins campaign to tackle unprecedented hunger this winter
Release Date: 16 December 2020
Richmond Council has joined a London-wide campaign to drive much-needed support to food charities and local food hubs this winter.
The Covid Community Campaign will help to provide food and support to those struggling this winter.
The campaign has been launched by Dame Louise Casey with London Councils, The Mayor of London and leading national food poverty charities The Trussell Trust, FareShare, Magic Breakfast and Social Bite also lending their support.
The coalition behind the campaign have set out to build upon the community spirit and compassion seen throughout this year in response to COVID-19 and are asking the public, businesses, community and faith groups to give what they can to the campaign fund to support fellow Londoners.
Money raised will be distributed amongst the campaign's charity partners - The Trussell Trust, FareShare, Magic Breakfast and Social Bite - and 20% of proceeds will go to local charities in each participating Council's area, including here in Richmond upon Thames.
The campaign is also encouraging people to give money, food, essentials or their time in support of their local food hubs and other local charities providing vital support.
Cllr Michael Wilson, Lead Member for Communities, Equalities and the Voluntary Sector, said:
"The impact of COVID-19 on lives, jobs and communities has been devastating – and we are doing everything we can to help those who need it most. This includes launching a number of local grants, providing free school meals throughout school holidays and providing funding to our valued voluntary sector – including via our Winter COVID Fund.
"But we need help to meet the scale of the need we are seeing this winter. The last year has been tough but it's also shown when we come together to support each other we can do extraordinary things and I know by working together as Londoners we can make sure that no one goes hungry this winter."
Food hubs are expected to face increasing demand with fewer resources over the winter months, as they step in to support those who are adjusting to life on Universal Credit, a loss of income or unemployment as a result of COVID-19.
The number of people on Universal Credit has almost doubled since the start of the COVID-19 pandemic, from 3 million in March to 5.7 million in October, and recipients can struggle to access food and help.
In response to this rising food poverty crisis, the Covid Community Campaign is calling for the public to come together in support of their communities and visit Covid Community Campaign to find out how they can get involved.
The campaign also aims to go beyond the immediate crisis – providing essential support this winter – by building on the work each partner is already doing to tackle hunger, and working together towards a joint long-term solution that addresses the systematic issues that lead to food poverty.
For information about support in Richmond upon Thames, go to the I need help web page.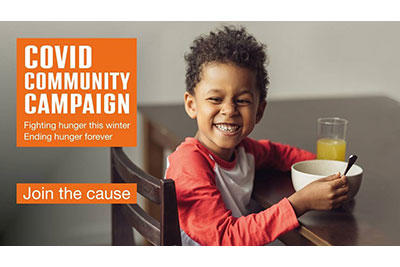 Notes for editors
If you are a journalist and would like further information about this press release, contact Elinor Firth on 020 8487 5159.
Reference: P497/20