Additional Green Homes Grant funding awarded to help even more residents improve the energy efficiency of their homes
15 December 2021
Richmond Council has secured additional funding for the next phase of the Green Homes Grant. The Green Homes Grant provides up to £10,000 of funding to help residents improve the energy efficiency of their homes helping them to save money and reduce their carbon emissions.
The scheme is for homeowners and landlords in England to support the installation of energy efficient and low-carbon heating improvements to their homes. The types of improvements that can be made include insulation, double-glazing, air source heat pumps and heating controls.  
The grant provides residents with the opportunity to save up to £600 a year on their home energy bills while making their homes warmer and more comfortable ahead of the winter months. These improvements will also help to reduce their carbon footprint.   
To be eligible, households must:
Have a household income of £30,000 or less, or £20,000 or less after housing costs
Live in a property with an EPC rating of E, F or G (the three lowest ratings)
Both homeowners and landlords are eligible to apply for the scheme. Residents who are owner occupiers of their homes do not need to contribute any funding. Landlords will be required to contribute a minimum of 1/3 of the total costs. The next round of funding for the grant will run until March 2023.
Richmond Council is encouraging residents who believe they might be eligible for the grant to apply for the scheme. To apply for the scheme, residents can call the Green Homes Grant hotline on 0800 233 5655 or register their interest online.
Richmond Council and housing provider Richmond Housing Partnership (RHP) recently received funding to deliver improvements to three RHP owned properties in Teddington. The properties received double glazing and external wall insulation, which was part funded by the Green Homes Grant, to the value of £5,000 per property. RHP covered the remainder of the costs.
Councillor Julia Neden-Watts, Chair of the Environment, Sustainability, Culture and Sports Committee, said:  
"Many households across the borough have already benefited from the Green Home Grant and are seeing the benefits through the savings on their energy bills and the comfort of living in a warmer and more energy efficient home.
"The next round of funding is hugely important as the Council continues to support residents to reduce their carbon footprint. If you live in a cold house or believe that you may be eligible for a Green Homes Grant make sure you get in contact for your free assessment."
Katie Collins, Head of Operations at RHP, said:
"We are really pleased to have been able to work with Richmond Council to take advantage of the Green Homes Grant Funding, to install external wall insulation and new double-glazed windows to one of our blocks.
It's really important to RHP to make use of any available funding to help with our own plans to improve the energy efficiency of our homes, and maintain them as affordable, safe and warm for our customers."
You can check the Energy Performance Certificate (EPC) rating of your home on the EPC register website.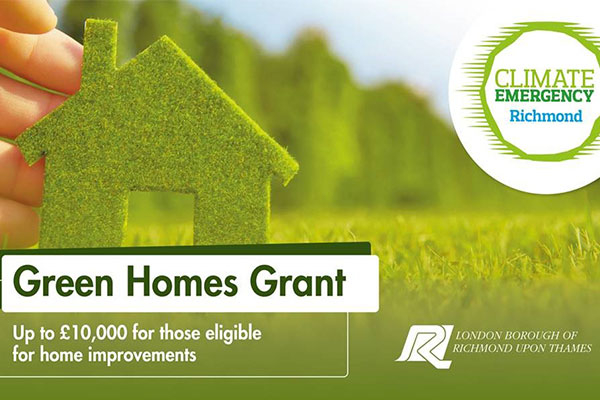 Updated: 29 December 2021