Is your indoor fire causing harmful air pollution?
15 December 2021
Residents with real coal fires or wood burning appliances are asked to check what they are burning to ensure they are compliant with smoke control legislation. Better still, they are being encouraged not to burn, to help reduce dangerous air pollution.
Wood burning stoves and coal fires are the single largest source of the pollutant 'PM2.5' in the UK – a form of pollution that can cause respiratory and cardiovascular illness and has been linked to many cognitive disorders such as dementia. The World Health Organisation has identified it as the most serious air pollutant for human health and recent research shows that long-term exposure to PM2.5 is associated with a higher risk of ICU treatment for people with COVID-19.  
Since the first Clean Air Act of 1956, Richmond has been a 'Smoke Control Area'. In recent years, open fires and wood-burning stoves have risen in popularity and with them the number of queries or complaints the Council receives. The law is clear – either the appliance or the fuel must be exempt/approved by DEFRA (Department for Environment, Food & Rural Affairs). So, a DEFRA exempt wood burner can burn non authorised fuel, such as untreated wood but an open fire must not burn untreated wood and can only burn authorised dry, smokeless fuel. Check the label - all authorised fuel will have a 'ready to burn' label. It is now an offence for retailers to sell unauthorised fuel. 
Dry storage of fuel is very important because burning damp fuel may produce smoke. If you are storing outside, please ensure it is off the ground, covered and bought into the house in a warm room several days ahead of burning, so it is completely dry or you will negate attempts to buy the correct dry fuel and it may cause smoke, harmful to yourself and the environment and may become a nuisance to neighbours.
The Council is working to tackle air pollution as part of its Climate Emergency Strategy. It has a Pollution Team that deals with complaints and takes action to tackle local air pollution from contaminants including smoke. Read the Air Quality Action Plan to find out more.
If you need to burn wood for heating your home, you could apply for the Green Grant for Homes to help with insulation. Additionally, if you are experiencing fuel poverty and have to resort to wood burning, you may be eligible for a Fuel Grant.
Cllr Julia Neden-Watts, Chair of the Environment and Sustainability Committee, said: 
"Domestic wood burning causes more PM2.5 than road traffic, and yet there is only a small portion of the population who use wood burning stoves and coal fires. Most of these people have access to gas or electricity for heating, and so are just using indoor burning appliances to create a homely feel.
"I urge residents to think about air quality and the impact on people's health when they go to light their indoor fire. Please avoid using your indoor burning appliances."
See more information on smoke control and bonfires.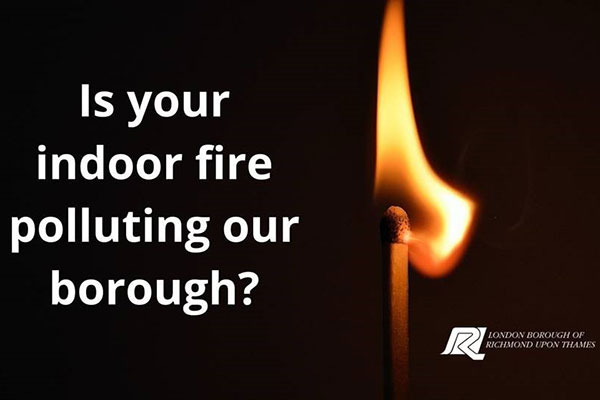 Updated: 29 December 2021