New walk-in vaccination centre to open in Richmond
17 December 2021
A further walk-in COVID-19 vaccination and booster clinic will open for five days from Monday in Richmond town centre, enabling even more people in Richmond to have the vital jab before Christmas.
The clinic will open at Richmond Adult Community College (RHACC) on:
Monday 20 December from 11am to 6pm
Tuesday 21 December from 9am to 6pm
Wednesday 22 December from 9am to 6pm
Thursday 23 December from 9am to 6pm
This is in addition to walk-in centres available across South West London, including at West Mid Hospital Vaccination Hub.
The clinic at RHACC is open to anyone aged 12 or over, however young people aged 12 to 15 may need to wait for nurses to become available.
No appointments are needed, but as seen elsewhere in the country, queues maybe long. First and second doses of the Pfizer vaccines will be on offer, and booster jabs (for those eligible) will also be available.
Cllr Gareth Roberts, Leader of Richmond Council, said:
"We've had an amazing response to vaccinations in Richmond, with the majority of our population now eligible for their booster as they've already had their first and second doses.
"If you've not had a chance yet to get any of your COVID-19 vaccinations, it doesn't matter why, it's not too late. Even one dose is better than none, so please book an appointment or get to a walk-in clinic as soon as you can.
"It is a huge collective effort to ensure every eligible adult gets access to a booster jab. However, the vaccine programme and everyone behind its success has risen to every challenge time and time again, and I know they are pulling out all the stops to protect people.
"The message is clear - please get the booster jab now, as that's the best way to ensure you and your loved ones are as protected as possible from COVID-19 this Christmas.
"We will support our colleagues at the NHS with this mission in any way we can, as it is in everyone's best interests and will help to protect our health services and get us get back to living our lives normally, which is something we all want to do."
People should also continue to wash hands regularly, wear face coverings where required, take regular lateral flow tests, self-isolate immediately and get a PCR test when displaying any COVID-19 symptoms, and if meeting people indoors ensure fresh air is circulating.
People are advised to pre-book appointments where they can by visiting the NHS: Book or manage your coronavirus vaccination page or by calling 119.
People should keep any eye on the NHS website for any relevant updates regarding walk-in appointments.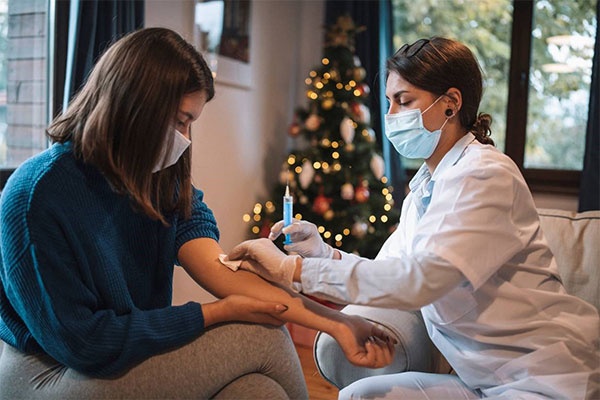 Updated: 29 December 2021