Richmond upon Thames remembers the women killed this year
14 December 2021
Over 70 people came together on Friday evening (10 December) to walk and remember the 133 women killed by men in the UK this year. 
The torch-lit walk was organised to mark the end of the  16 Days of Action campaign, which begins on the International Day for the Elimination of Violence Against Women, also known as White Ribbon Day (25 November), and ends on Human Rights Day (10 December).  
The walk started in Richmond Town Centre and ended at York House in Twickenham, where 133 white carnations were laid in memory of the lives lost. The walk was led by Cllr Khosa, Richmond Council's White Ribbon Champion, and saw over 200 White Ribbon leaflets distributed, which aim to commit men to promising to never commit, excuse or remain silent about male violence against women.  
The Leader of Richmond Council, Cllr Gareth Roberts and Munira Wilson MP both made speeches at York House where the flowers were placed. 
White Ribbon is the leading charity that engages with men and boys to end men's violence against women, and Richmond Council recently became White Ribbon Accredited.  
In addition to the walk and as part of its 16 Days of Action work, Richmond Council worked with St Mary's University to deliver training to 200 secondary school teachers and support staff on recognising and responding to stalking, relationship abuse and coercive control. The Council also hosted a Community Conversation on domestic abuse and collected feedback on how it can improve awareness of support and how we can all help to tackle the issue. 
Cllr Ben Khosa said: 
"I am really proud of everyone who came together on Friday evening to remember the lives lost to male violence this year. We spoke to passers-by about the need for men to stand up and take responsibility so that we can work towards a future without violence against women. This is just the beginning of the work I hope to do as the Council's White Ribbon Champion."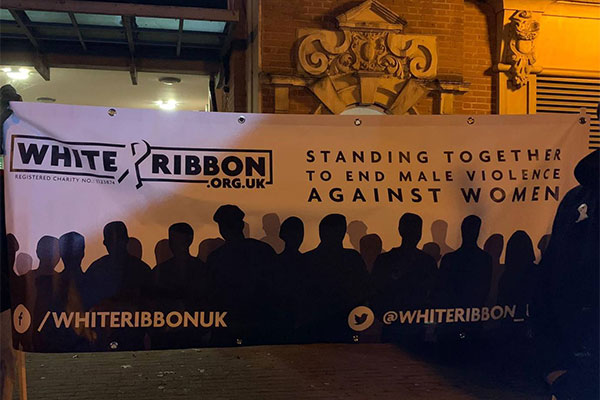 Updated: 29 December 2021