Update on waste and recycling
20 December 2021
Councillor Gareth Roberts gives an update on waste and recycling in the borough, alongside a statement from collection provider Serco.
Find out more about Christmas collections
Statement from Serco
The national HGV driver shortage, which is affecting many councils and businesses currently, has had an impact on our Richmond team in 2021. We currently have 10% of driving roles still unfilled despite running HGV recruitment campaigns offering flexible hours, job sharing and enhanced benefits packages to attract people into the roles who would not traditionally consider this industry. There is support, through our third sector partners, to assist longer-term unemployed drivers back into work. We are also growing and developing our non-driving team members through our fast-track driver training programme, with two of the team already enrolled on the 2022 programme.
This coupled with COVID absences, the need to adjust working practices to keep our teams safe and increased waste volumes during this period have from time to time impacted our ability to fully deliver our services across the borough. However, our waste and recycling teams have been, and still are, working extremely hard to minimise any disruption to our residents where possible, for which we thank them.
This is a time of the year when more waste and recycling is created than usual so, to help our teams work more effectively and efficiently, at an already challenging time, we would be grateful if residents could break down any cardboard boxes and leave them tied up next to their recycling boxes.
Our Richmond team would like to take this opportunity to wish our residents Seasons Greetings and a Happy New Year and to thank them for their continued patience and support during 2021.
Tips to help crews this Christmas
Please continue to sort your waste, recycling and food correctly, checking what can and can't be recycled.
Flatten down any cardboard. This can be left next to your recycling boxes - you don't need to break it down to fit it in your blue box.
Make sure you leave your bags and boxes right at the edge of your property - it really helps if the crews don't have to hunt around your garden or driveway to find it.
If your collection has been missed, check daily updates as known delays are published on our website. If there are no details regarding a known delay, please report a missed collection. It's really important that we get as many people reporting it through that channel so that we can collate all the information in one single place.
If you have a real Christmas tree for collection, collections start from Tuesday 4 January - please don't put it out before your collection day and block the pavement. If you have a front garden, please leave it there and make it visible to the crews.
And of course - please try and reduce the amount of waste you create. It helps the crews, but it also, importantly, helps us in the fight against climate change. There are lots of tips that can help you make Christmas favourites go a further.
Video transcript
Hello, I want to give you an update on the waste and recycling service in the borough. We know there are problems, you know that there are problems, and I know that many of you are frustrated, and believe me no Council leader wants to have to record videos like this to explain why there is a drop off in the services which residents expect. However, it is a big part of the borough's delivery to residents. We collect 1.3 million collections from across the borough ranging from Barnes all the way through to Hampton, every month.
The problem is that there are issues that are beyond our control at the moment. You will be aware there are shortages of HGV drivers across all sectors of the economy and there are also shortages of collection staff as well. And as we move into the winter months, with the rise of the COVID variant Omicron, we are expecting to see further staff shortages. This isn't an easy time for any council to have to deal with issues such as these and Christmas is always the busiest time for the waste and recycling collection. We always see case rates rise simply because of the sheer volume of waste and recycling which is generated by households.
We are doing what we can to ensure we are holding Serco, the service provider, to account. And we will be directing you, after this video, to a statement that Serco are putting out, which will give you some clarity about what they are going to be doing to help the service get better over the coming months.
However, the immediate issue is Christmas. We know that our bins crews are going to be working flat out over the next couple of weeks. There are going to be many of them working double shifts and they are going to be spending very, very little time with their families, and I know that you will want to ensure that they are given the space that they need in order to do the job - a very difficult job at a very difficult time. So please do bear with us over the next couple of weeks. We appreciate the service isn't quite what you'd expect, but we do want it to get better and with your help we can make it better.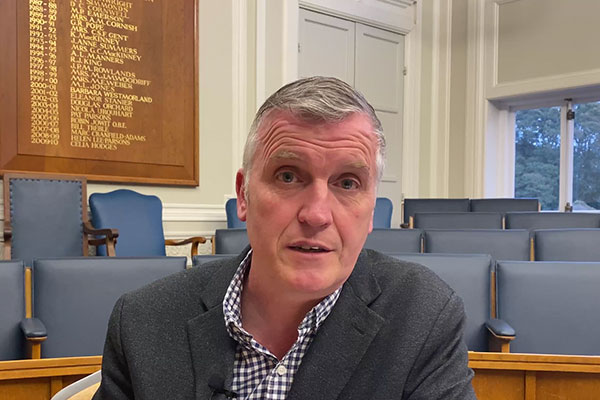 Updated: 30 December 2021