Council welcomes high capacity COVID-19 vaccination centre
Release Date: 04 February 2021
The NHS in SW London has opened a large NHS Vaccination Centre at the Twickenham Stoop Rugby ground to support the COVID-19 vaccination roll out.
The large-scale site at the Harlequins rugby ground will deliver its first protective jabs to patients from today (Thursday 4 February), and is capable of hosting social distanced vaccine delivery to thousands of people each week. The centre will offer a convenient addition to GP-led and hospital services that are already successfully delivering vaccinations across South West London.

Letters are being sent to people aged over 80 who have not yet had or been invited for the COVID vaccination, inviting them to book an appointment either by phone or online through the national booking system. If an appointment has already been offered by the GP, please keep that appointment.

Other groups of people should wait until they receive their invite letter and should not call their GP but rather use the booking line, when their invite arrives.

More information on the COVID19 vaccine.

Cllr Piers Allen, Chair of the Adult Social Services, Health and Housing Services Committee and Chair of the Health and Wellbeing Board, attended a socially distanced visit to the new centre before it opened with the Leader of the Council, to view the facilities, and thank colleagues at the rugby ground.

He said:

'It is great to see this site in Twickenham is now open and able to offer even more vaccinations to the most vulnerable patients in the area. I would like to thank all the amazing NHS staff, colleagues at the Stoop and the army of volunteers who have helped to set up the site and will keep it running over the coming months

'Like everyone else, I am eager to have the vaccine. But we all have to wait our turn. We continue to remind people waiting to hear when they will have their vaccine, please do NOT contact your GP but wait for the NHS to contact you.

'I know that COVID-19 continues to be hugely worrying for many people. However, this vaccination programme roll out is extremely complex. Our local GPs continue to work incredibly hard to ensure that our most vulnerable patients are protected as soon as possible. We need everyone to be patient and continue to follow all the safety guidance to protect yourself, your loved ones and your NHS services.'

More Vaccination Centres will be launched in SW London in the coming weeks to increase the numbers of people who can be conveniently vaccinated each day.

The NHS vaccination programme, the biggest in the health service's history, is being delivered as health service staff are treating record numbers of seriously ill patients with COVID, caused by the rapidly rising infection numbers in recent weeks

Please don't contact the NHS to seek a vaccine, the NHS will contact you. When you are contacted, please attend your booked appointments. And whether you have had a vaccine or not, please continue to follow all the guidance to control the virus and save lives – that means staying at home as much as you can, and following the 'hands, face, space' guidance when you can't.

People who book into a vaccine centre should note marshals will be on hand to help people to the right place. Bookings are staggered to allow social distancing and please don't arrive until five minutes before your appointment time.
Travel information from tfl.gov will be available from Monday.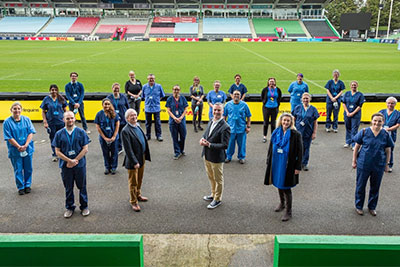 Notes for editors
If you are a journalist and would like further information about this press release, contact Elinor Firth on 020 8487 5189.
Reference: P055/21