Everything you need to know about the COVID-19 vaccines
Release Date: 22 February 2021
Listen to a new episode of Talk Richmond with the GP Borough Chair for Richmond upon Thames, Dr Patrick Gibson, who tells us everything we need to know about the COVID-19 vaccines.
Dr Patrick Gibson also sits on the governing body of the NHS Southwest Clinical Commissioning Group, which is playing a critical role in delivering the NHS' biggest immunisation programme in its history. 
In the 25-minute detailed podcast episode, Dr Patrick Gibson covers:
How the vaccines were created and approved
What the differences are between the vaccines
Common vaccine myths
Pregnancy and the vaccine
What to expect when it's your turn to have the vaccine
What to expect after having the vaccine including side effects, how long protection lasts for and the importance of continuing to follow national guidance
How the vaccination programme is going in Richmond upon Thames
Listen to the podcast on this website or by searching for Talk Richmond on your podcast application and downloading the episode.
Let us know what you think of the podcast and the episode by emailing talk@richmond.gov.uk
Cllr Jim Millard, Tenants' Champion and the host of Talk Richmond, said:
'I could have kept talking to Patrick for hours! His knowledge on the COVID-19 vaccines and the rollout of the vaccine programme locally is worthy of all residents' attention. 
'If you have had any questions or if you want an overview on the COVID-19 vaccines then I really suggest you take 25 minutes to listen to Patrick's knowledge.'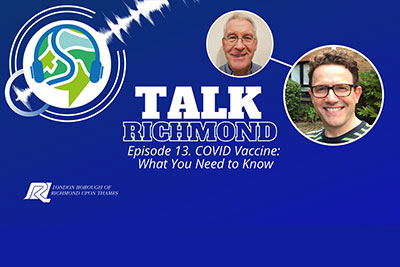 Notes for editors
If you are a journalist and would like further information about this press release, contact Fenna Maynard on 020 8487 5182.
Reference: P075/21