Newly upgraded play road opens at St Richard's CE Primary School
Release Date: 22 February 2021
A newly upgraded play road within the playground at St Richard's CE Primary School was unveiled over half term. The Play Road upgrading to the school playground will enable pupils to practise their scooting and cycling skills in a safe way.
St Richard's CE Primary School were successful in applying for funding from Richmond Council through their School Travel Plan for a new staff and visitor bike shed.  The new shed was custom built and designed to meet the specific needs of the school for years to come.

The upgrade to the school's playground will enable school children to practise their scooting and cycling skills safely in school. The school was able to use the remaining funding to get, a play road painted and the existing mock-zebra crossing renewed. 

St Richard's used model working Belisha beacons for the zebra crossing which was installed prior to the official opening of the road last Friday, February 19, at the school. The socially distanced, outdoor unveiling was attendance by Cllr Gareth Richards and Cllr Penny Frost.

Cllr Gareth Richards, Richmond Council's cycling champion, said:

'It is hugely encouraging to see St Richard's CE Primary School investing in the future of their pupils and supporting children to safely use greener forms of transport. The newly upgraded Play Road at St Richard's CE Primary School will encourage and make it easier for pupils to learn how to safely cycle and scoot while using the boroughs roads and cycle facilities.

'This is another welcome development in sustainable travel following the recent announcement of the surge in use of the borough's first protected cycle lane on Kew Road and highlights Richmond Council's commitment to environmentally responsible modes of transport.'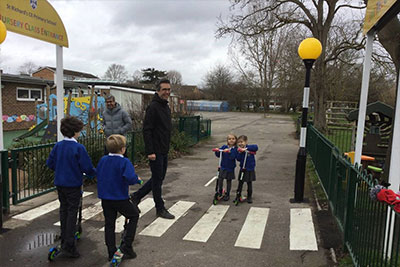 Notes for editors
If you are a journalist and would like further information about this press release, contact Jeff Gibbons on 020 8487 5178.
Reference: P077/21