Vaccinated people MUST follow lockdown rules
Release Date: 02 February 2021
Residents who have received the COVID-19 vaccine are reminded that they must continue to follow the public health guidance to protect those around them, including social distancing, regularly washing their hands and wearing a face covering.
The Government vaccination programme aims to get COVID jabs to the most vulnerable groups of people first - the elderly, those who are shielding and NHS staff and health and social care workers - by the middle of February and to other groups following this. 
The vaccine remains one of the main ways the country will reduce the impact of the virus on people's health and on our healthcare services. Experts know the vaccine reduces the chance of people suffering from COVID-19, and while they do not yet know if it will stop people catching or passing on the virus, they expect it will reduce this risk. Therefore, there is a small chance you might still get or spread coronavirus even if you have had the vaccine.
As we successfully continue to vaccinate thousands of people in Richmond upon Thames, it is vital that once people have had the jab, they continue to follow public health guidance. 
Cllr Piers Allen, Chair of the Adult Social Services, Health and Housing Services Committee, and Chair of the Health and Wellbeing Board, from Richmond Council, said: 
"The NHS are working flat out to ensure that all those in the priority groups receive the vaccine. Everyday hundreds more local people are given the jab.
"We have seen how thankful and relieved people are to have received the vaccine – but it is really important to remember that it takes about three weeks for your own immune system to respond to the vaccine, and for you to be protected against the most serious effects of COVID-19 disease.
While clinical and public health scientists are working hard to determine the risk of those who are vaccinated still being able to transmit disease, until they do we have to assume vaccination doesn't stop spread of infection and therefore ensure vaccinated individuals follow the same public health guidance of hands, face, space, and limiting social mixing as they did before.
Those residents who are clinically extremely vulnerable and have been shielding during the latest national lockdown should take individual advice from their GP or health care practitioner when they receive their vaccination to confirm if they still need to shield after vaccination, for themselves or others in their household.
"However tempting, it is vital that you do not drop your guard during this time, keep yourself safe while you give the vaccine time to work and continue to protect others from spread of disease by following Government guidelines. 
"The vaccine has given us hope. But we must remain vigilant."
View further information about the vaccine.
If you have received the vaccine, remember the public health rules to always: 
Keep a safe distance from others.  Stay two metres apart from people you do not live with as much as possible. 
Wherever you cannot keep a safe distance from others you should wear a face covering, this includes at any busy outdoor public places. It is mandatory to wear a face covering on public transport and in shops
Wash your hands frequently and carry hand sanitiser when you are out
Keep your home well ventilated if you must have people there, such as those doing maintenance. Open windows and doors when you can to allow fresh air to circulate.
If you develop 

COVID-19 symptoms

 (high temperature, continuous cough, loss or change of taste or smell) then self-isolate immediately and request a test as soon as you can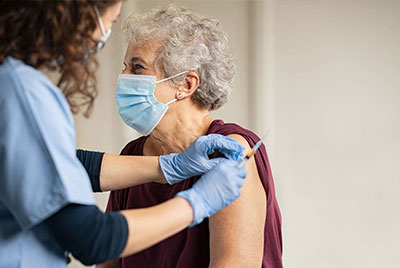 Notes for editors
If you are a journalist and would like further information about this press release, contact Effie Lochrane on 020 8487 5162.
Reference: P051/21