Free vaccines for those looking after loved ones
10 January 2022
If you are the main carer for an older or disabled person, or if you receive a Carer's Allowance, you are eligible for a free flu vaccine. Additionally, if you are aged 16 and over and are the main carer for someone at high risk from COVID-19, you are eligible for a free COVID-19 booster vaccine.
There are an estimated 27,000 people who provide unpaid care to their loved ones in Richmond upon Thames. A carer is anyone, including children and adults, who looks after a family member, partner or friend who needs help because of their illness, frailty, disability, a mental health problem or an addiction and cannot cope without their support. The care they give is unpaid.   
When caring for someone, you may worry about what would happen if you suddenly became ill. By getting both vaccines, you will help to protect yourself – as well as the person you care for – from getting sick this winter. 
Visit the NHS website for more information on the COVID-19 booster vaccine and the flu vaccine and how to book. 
Cllr Piers Allen, Lead member for Adult Social Care and Health and Chair of the Richmond Health and Wellbeing Board, said: 
"Unpaid carers are incredible people who often don't even realise that by looking after a loved one, they are an unpaid carer. It's vital that if you do look after someone, you have both vaccines so that you can continue your care knowing that you have done your bit to ensure they are protected from both viruses."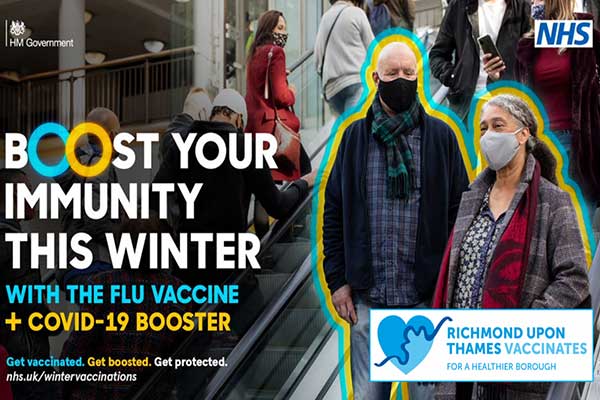 Updated: 13 September 2022