Help others get moving and be healthier through the Active Richmond Fund
7 January 2022
The Active Richmond Fund gives money to local groups and organisations so that they can provide an extended range of activities that promote an active lifestyle for Richmond upon Thames residents.
The fund exists to respond to both current and emerging needs, gaps and opportunities by offering social, cultural and physical activities (including sports, fitness, arts and social groups). The Fund awards grants for activities which improve people's physical and mental health and wellbeing.

The Active Richmond fund offers two grant schemes to apply to:
Micro Grants – up to £1,000 - Micro Grants provide funding to enable groups to respond quickly to gaps and needs in the existing provision. For example, this could be funding for additional equipment or Social Prescribing places where there is high demand for an activity. The Micro Grants application process is light touch, with a quicker turnaround on grant award decisions.
Main Grants – up to £5,000 - The Main Grants provide more project focused funding, supporting groups and organisations to deliver activities in a more substantial way and/or over a longer period of time (up to 12 months). For example, this could be developing new opportunities or expanding existing activities in other parts of the borough.
For an example of a successful Active Richmond Fund application, watch how the Activate Project (Church of St Peter and St Paul, Teddington) used its funding to establish a Sport and Wellbeing Hub to deliver activities to improve its members physical and mental health and wellbeing. 
For more information and to find out eligibility, visit the Active Richmond Fund page.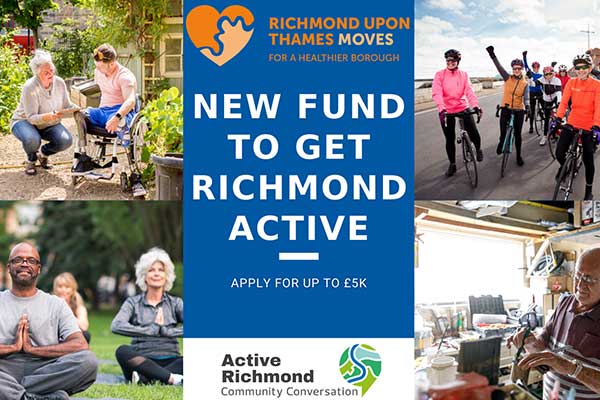 Updated: 24 February 2022