Teddington Theatre Club wins £25,000 jackpot in Get Lucky Local community lottery

8 July 2021
Teddington Theatre Club have been celebrating in style after a massive win of the £25,000 jackpot in Richmond's community lottery, Get Lucky Local.
The 96-year old Teddington Theatre Club, based at the Hampton Hill Theatre, became the the first ever jackpot winner in the local lottery.
Earlier this week members of the theatre toasted their success in a special champagne cheque handover at Teddington's riverside restaurant, The Wharf.
Their winning ticket was amongst a batch of 1,700 bought by The Wharf as part of a unique initiative between Get Lucky Local and the restaurant, which saw diners donating £1 to their bill during the month of June with the restaurant matching all donations.
As well as the £25,000, the club received another £850 from its share of revenue of the tickets and another £25 cash prize from another winning ticket, which resulted in a making a grand total of £25,883.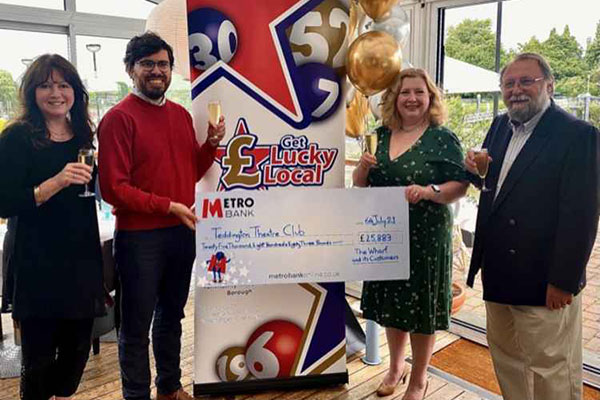 Community news on behalf of Get Lucky Local Lottery