Richmond Council welcomes SEND funding agreement
Release Date: 19 March 2021
Following years of intense lobbying, Richmond Council has secured an agreement with the Department for Education which is aimed at addressing Richmond's Special Educational Needs and Disabilities (SEND) funding gap over the course of the next five years. 
Reforms to SEND provision introduced in 2014 have resulted in the Council spending far more meeting Richmond upon Thames' SEND needs than it received in government funding. This shortfall has been met by the Council, placing a massive additional stress on council finances. By the end of this financial year the gap between spending and funding will reach £18 million.
This agreement is the result of a concerted effort over recent years on the part of the Council to get a fairer funding settlement from the Government. This effort has been led by Councillors Robin Brown and Penny Frost, senior Council officers and Achieving for Children staff, along with support from both current and previous MPs, Munira Wilson, Sarah Olney, Zac Goldsmith and Sir Vince Cable, and the Leader of the Council, Councillor Gareth Roberts. 
The funding plan, which was agreed at a special meeting of the Council's Finance, Policy & Resources Committee, will see the Council receive an additional £6m of funding by the end of the current financial year (31 March 2021).   
As the £6 million funding will only go part of the way to plugging the finance gap, further payments will be spread over the following four years with the aim of reducing the deficit to zero by 2025. Those additional payments are subject to the Council continuing to make good progress with its SEND Futures plan and will require the council to make some contributions from its own resources.  
The SEND Futures plan, which includes proposals to add new special needs school places within Richmond upon Thames, will be supported by a Special Commission from the Department for Education and could result in additional capital funding being released.   
Councillor Robin Brown, Lead member for Finance and Resources, said:  
"I am delighted that our sustained lobbying efforts have finally led to this welcome agreement with the DfE, although in an ideal world I would have preferred the deficit to be paid off immediately. I'd like to thank our two MPs for consistently supporting us in standing up for Richmond residents and making sure that ministers were fully aware of the issue that we've been facing. The ever-growing SEND deficit has been a cloud overshadowing our financial position for some time and this agreement will now allow us to plan with more confidence. Of course, many financial uncertainties remain given the costs to the Council of the COVID-19 pandemic and the lack of clarity on future funding plans from the Government." 
Councillor Penny Frost, Chair of the Education and Children's Committee, added:  
"This agreement recognises that the Council has been digging deep into its own pockets to maintain SEND education provision in the borough. We will continue to develop and improve SEND services in Richmond working in partnership with our children and young people, their families and local schools. The SEND Futures plan set out by Achieving for Children will be the foundation of this. I'm particularly pleased that the DfE recognises the importance of increasing the availability of specialist school places locally and look forward to working with the proposed Commission to progress our plans in this area."
Councillor Robert O'Carroll, the Council's Disabilities Champion, said: 
"The 2014 reforms were crucial in securing better support for children and young people in Richmond who have Special Educational Needs and Disabilities. But the Government funding didn't keep up and I'm glad that is being addressed with this agreement. The Council's SEND Futures plan is a good way forward and has benefited from input from young people and their families. Any increase in local provision in our borough will be very welcome so that needs can be met without long stressful journeys."
View the funding agreements.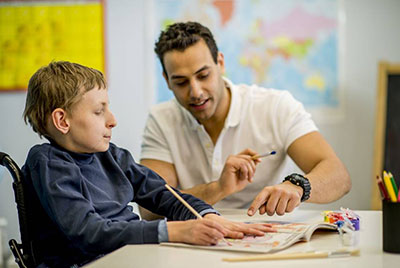 Notes for editors
If you are a journalist and would like further information about this press release, contact Effie Lochrane on 020 8487 5162.
Reference: P118/21