Richmond upon Thames College students win at the International Salon Culinaire London

31 March 2022
Richmond upon Thames College students and teachers recently competed in the International Salon Culinaire at the ExCeL London.
The competition is a platform for chefs of all levels, and is regarded as one of the world's top competitions for chefs. This year's competition took place as part of the London Hotel and Restaurant Show.
Richmond upon Thames College Catering Level 3 student, Valdino De Souza, won the silver medal for the 'Pub Chef of the Year' competition with his winning dish of roasted pork fillet wrapped in Parma ham, scotch egg, triple cooked chips, and red wine sauce.
Chef Lecturer in Culinary Arts, James Unwin alongside students Frankie Brant, Oskar Costa, and Darian Nabaz won the bronze award for 'Chef Team of the Year', which was awarded by celebrity chef Michel Roux Jr.
Catering lecturer, Neal Hook and student Yasmin Gibb won a bronze medal for their entry in the 'Mystery Basket Challenge'.
Student Darian Nabaz was also awarded a second bronze medal and Oskar Costa a merit for their meal preparation for the Chicken for Sauté competition.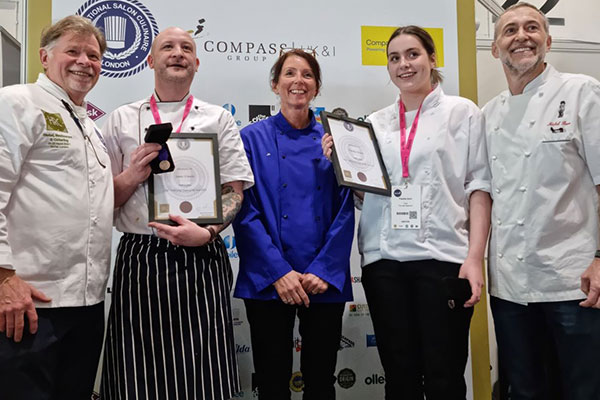 Community news on behalf of Richmond upon Thames College