Mayor of Richmond unveils new twinning signs in Barnes to celebrate Europe Day

10 May 2021
Europe Day this year marks the 71st anniversary of the Schuman declaration, which ended centuries of conflict in Europe and provided the foundation of what was to become the European Union.
The Mayor of Richmond, Councillor Geoff Acton, unveiled one of the seven new cast iron town twinning signs in Mill Hill Road, Barnes on Sunday 9 May, to celebrate Europe Day.

The new signs bring the total number of town twinning signs in the borough to 22. The mayor was joined for the ceremony, under COVID-19 restrictions, by REA chairman, Alan Mockford, former chairman, Bernd Steinlechner, vice chairman, Clare Head and Nicki Urquhart of the Barnes Community Association.

Richmond has been twinned with Fontainebleau since 1977, Richmond Virginia since 1980 & Konstanz since 1983. A new fingerpost sign, pointing to Richmond's twin towns and indicating their respective distances, has been commissioned by REA and will be installed outside the civic centre later this year.

Find out more on the Richmond in Europe Association's website.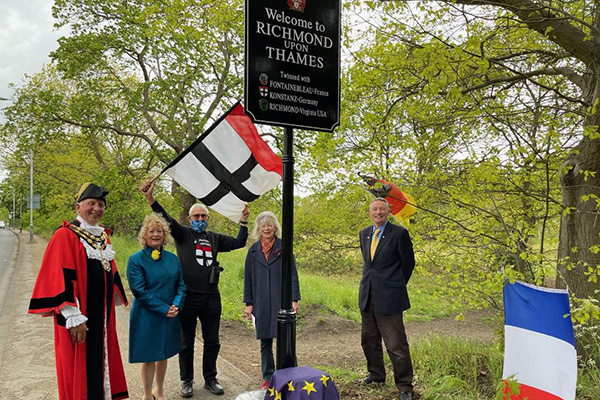 Community news on behalf of The Richmond in Europe Association