New technology helping tackle flooding in Richmond upon Thames
11 November 2022
Cutting-edge, flood early warning technology has been working hard in Richmond upon Thames this week as heavy rainfall has seen surface water flooding in many parts of the borough. 
Richmond Council is participating in a trial of flooding sensors, which are placed in 12 gullies across Richmond upon Thames, allowing council officers to monitor rising water levels and alert the borough's drainage contractors to respond quickly to any surface water flooding.
The new sensors are part of the South London Partnership's InnOvaTe Project. As well as allowing the Council to respond quickly to surface flooding which is not subsiding, the project will generate long term insights that will help understand and predict the impact of flooding on the drainage system.
Councillor Julia Neden-Watts, Chair of the Environment, Sustainability, Culture and Sport Committee, said:
"The reality is that climate change is making heavy rainfall and flash flooding more frequent. While in most instances any surface flooding usually recedes within a couple of hours, as these weather events become more frequent, the pressure on our drainage systems in going to increase. Using technology like this, we can get a better view of how the system is responding to heavy water flow and ensure officers can identify and attend to any serious issues quickly."
During a period of heavy rain last week (Wednesday 2 and Thursday 3 November 2022), the sensors issued five flood warnings and recorded four flooding events, with two locations recorded as not completely returning to pre-flood water levels.
By monitoring water levels, the sensors can highlight both localised issues (such as leaves blocking a gully or drain) or more significant system blockages, which need attention from Thames Water. 
Councillor Gareth Roberts, Leader of Richmond Council and Chair of the South London Partnership, said: 
"We know that flooding is becoming a more frequent occurrence at all times of year. At best floods are an annoyance, at worst they can cause serious damage to people's property and impact people's lives. If you have experienced flooding at your home or business you should let us know – this will help us prepare for and manage future flood risks across the borough.
"We also really need people to continue to tell us about blocked gullies on public highways or surface flooding that does not subside after a couple of hours. Our highways and street cleansing teams work hard to keep on top of this, but it helps us to hear from residents if there are significant issues in any locations, so officers can prioritise clearing these as quickly as possible."
There are sensors in 12 locations in Richmond upon Thames:
Castelnau

 

 

Church Road (Barnes) 

 

Nassau Road 

 

Station Road (Barnes)

 

Strawberry Vale/ Cross Deep 

 

High Street (Hampton Wick)

 

Kew Road 

 

Kew Road 

 

Burtons Road

 

Heath Road

 

Sydney Road, Richmond

 

Lincoln Avenue, Twickenham

 
You can use our online forms to report:
About the InnOvaTe Project
South London Partnership is working with London Councils to deliver an exciting and innovative 'Internet of Things' (IoT) project across the five south London Councils of Croydon, Kingston upon Thames, Merton, Richmond upon Thames and Sutton.
The InnOvaTe Project initiative is funded by the Strategic Investment Pot (SIP) as part of the London Councils Business Rates Retention scheme which is administered by the City of London Corporation, and hopes to improve people's lives through the delivery of a multi-purpose Internet of Things (IoT) platform, which will connect various sensors across borough boundaries.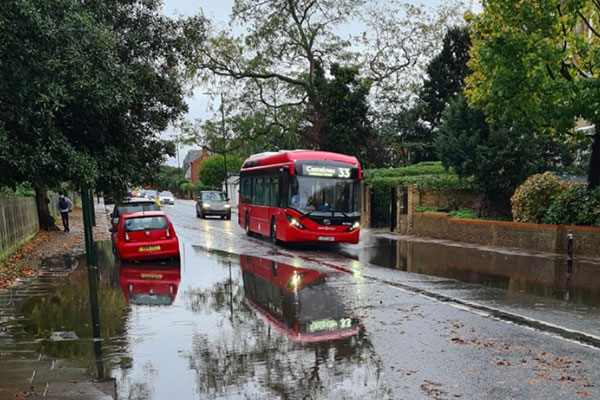 Updated: 15 November 2022