Trees on Richmond Green, Riverside Path and Terrace Gardens - the town's unsung green heroes - are celebrated in a fascinating new handbook and trail guide.
Richmond's Trees gives details of 34 specimens on Richmond Green, along the Thames Path and in the hillside Terrace Gardens. It is beautifully illustrated and includes many practical, literary and scientific references. Each tree is labelled for easy identification by walkers who follow a leisurely two-mile trail of discovery.
The book was inspired by Lord Lee of Trafford. When he came to live in Richmond a few years ago he noticed that whilst the trees of Kew Gardens and Richmond Park were celebrated, those elsewhere in the town were relatively unsung.
"When I moved to Richmond from the North I was immediately struck by the magnificence and diversity of so many of our trees - what a story many of them could tell of life in Richmond over the ages and what they would have witnessed."
Lord Lee said:
"However, I was surprised that there was no publication which covered these trees - yes, coverage of those in Richmond Park and in Kew Gardens, but not in Richmond itself."
A small team of Richmond Society members was assembled - Linda Christmas, journalist and author; Patrick Eagar, professional photographer; and Nicky Wood, Chair of the Society's Landscape and Riverside Committee, to whom we are hugely indebted. Others who contributed advice and expertise were Livi Gosling, map and trail illustrator; Tony Kirkham, former Head of the Arboretum, Royal Botanic Gardens, Kew; Craig Ruddick, Arboricultural Manager, London Borough of Richmond upon Thames; and Kate Wakeham, book designer.
Lord Lee and Craig Ruddick spoke about the project when the book was launched by The Richmond Society, the town's civic and amenity charity, on Thursday 10 November in the presence of The Mayor of the London Borough of Richmond upon Thames, Cllr Julia Cambridge.
The 88-page book will make a wonderful gift for Christmas or at any other time of the year for anyone who loves Richmond and admires its trees. It costs £10 and can be ordered from The Open Book, 10 King Street, Richmond TW9 1ND. Contact The Open Book on 020 8940 1802 or at theopenbook@btconnect.com.
Proceeds go to The Richmond Society.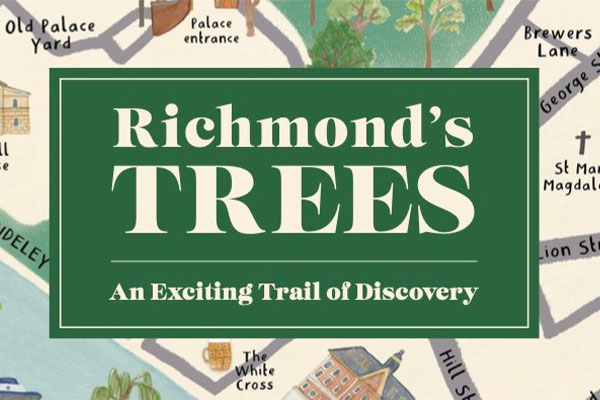 Updated: 15 November 2022