Council urges residents to celebrate Halloween safely
Release Date: 26 October 2020
Richmond Council is urging residents to celebrate Halloween sensibly this year as cases of Covid-19 continue to rise across London.
The Council has published resources for residents to use, suggesting alternative ways to mark Halloween this year. They aim to help children and families celebrate Halloween safely without mixing households whilst ensuring the wellbeing of older or more vulnerable residents.
Leader of Richmond Council, Cllr Gareth Roberts, said:
'Like so many things this year, Covid-19 has affected the way we do things and Halloween is no different. We want to encourage residents to celebrate Halloween but to do so in a way that is both safe for them and those around them. Richmond is currently in the High tier of Covid-19 cases which means we must continue to show vigilance to ensure we slow the spread of the virus while continuing to social distance, wearing face masks and avoiding unnecessary contacts with others.
 'We have launched a programme of alternative activities to help kids and families to celebrate Halloween in a safe way while also providing shielding or vulnerable residents with resources to ensure they can have a peaceful Halloween evening. I would encourage all young people to take part in our colouring competition and share their creations with us.'
London in currently in the High Tier for Covid-19. This means that households are not permitted to mix indoors and are limited to the rule of six outdoors, while adhering to social distancing measures.
Due to the ongoing pandemic, this year's Halloween celebrations will be different for many families. Traditional Trick or Treat traditions of children ringing on doorbells and putting their hands in the same bowls now pose an unnecessary risk. The virus can remain on many surfaces long after the contact and as a result, areas such as door knockers and bells can act as a transmitter of the virus while increasing the chances of spreading the virus to others.
Richmond Council are asking families to use common sense this Halloween, to not go from door to door and to consider some of the fun and safe alternatives being proposed. The Council has launched a spooky Halloween colouring competition. Children are invited to download and print off the Council's pumpkin stencil and to fill it with colour and to share their creations via social media. 
Other low risk Halloween activities recommended include:
Pumpkin competition – Families are invited to submit images of their pumpkin creations. Entries will be shared on our social media. Households are also encouraged to display their pumpkin on their doorsteps or in a front window.
Colouring competition – The Council launched their Halloween poster that children can colour in, display in their windows and share their creations online.
House decorating – Families are encouraged to decorate their house with all things ghoulish and scary and to share their creations with the Council online.
Halloween scavenger hunt – parents can lay out a scavenger hunt around the house or outdoor areas of their garden or street for children to explore and find hidden treats.
Home movie night – with an array of spooky Halloween favourites available on all streaming services and from local libraries why not put a scary film on for some fun and scares on Halloween night.
Home fancy dress party – all the family can get involved and dress up with their Halloween outfits. Children can also use video conferencing software to connect with their friends on the night and to show off their scary outfits.
Spot the Pumpkin - parents can prepare a bag of treats for their children/household and go on a pumpkin hunt around their local areas and every time a child spots a pumpkin the child receives a treat. Trick or Treat with a difference.
Halloween also poses challenges for older or more vulnerable residents who may be shielding to protect themselves and others. Residents are asked to consider vulnerable residents who may be particularly anxious at this time and alarmed by repeated knocks on their door.
To help protect residents who wish not to be disturbed on Halloween night, the Council has made available a printable sign available that residents can hang on their front doors or in front windows to illustrate to others that they are not taking part in this year's celebrations and do not wish to be called upon. Download the 'No Trick or Treaters' poster.
To share your colouring creations, household decorations or pumpkin carvings and to enter our prize draw, share your pictures online and tag @LBRUT on Twitter or Instagram and use the hashtag #RichmondScares. Closing date for entries for the colouring competition is Monday, 2 of November.
However, you celebrate Halloween this year, residents are reminded that households are not permitted to mix indoors, and outdoors are limited to the rule of six and should adhere to social distancing measures.
Remember, a Halloween mask is not a face mask.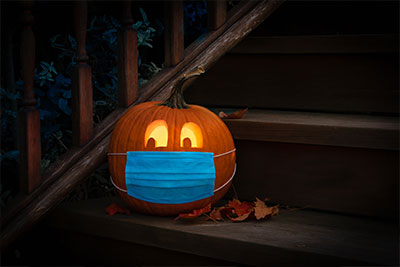 Notes for editors
If you are a journalist and would like further information about this press release, contact Jeff Gibbons on 020 8487 5178.
Reference: P424/20