Ten Richmond Town Centre businesses invited to trial e-cargo bike delivery service
Release Date: 19 October 2020
Businesses in Richmond Town Centre are encouraged to apply to a free trial of an e-cargo bike delivery service. The first ten to twelve businesses to sign up to the trial will benefit from a dedicated e-cargo bike and rider to carry out a number of free deliveries in the spacious e-cargo bike until Christmas.
This is part of the Council's successful bid to be involved in the Clean Air Villages project, which is being delivered by the Cross River Partnership and is funded by the Defra's Air Quality Grant. The Clean Air Villages project is a year-long project to improve air quality by helping businesses recover from COVID-19 in a clean, green and sustainable way.
Richmond Town Centre is the area involved in the project. It is an Air Quality Focus Area – meaning that the Mayor of London identified it as a location where both pollution levels and human exposure are high, so improvements to air quality are needed.
If you are a business in Richmond Town Centre and would like to be involved with the e-cargo bikes, please contact Laura Jacklin on laurajacklin@crossriverpartnership.org before 30 October 2020.
Cllr Alexander Ehmann, Chair of the Transport and Air Quality Committee, said:
"Richmond Town Centre is a hot spot for air pollution in the borough. We need businesses and organisations to make the switch from delivery vans to delivery e-cargo bikes to help reduce traffic and improve air quality. It makes both environmental and financial sense!"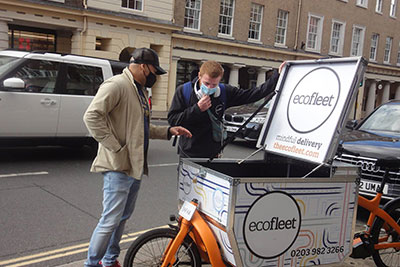 Notes for editors
If you are a journalist and would like further information about this press release, contact Fenna Maynard on 020 8487 5182.
Reference: P409/20