Come and have a chat about your health
28 November 2022
The 'Come and have a chat about your health' bus will be visiting two locations in the borough over the next couple of weeks to answer your health questions.
The bus will be parked at the following addresses and times:
Thursday 1 December – Tesco Teddington, 20-28 Broad Street, Teddington, TW11 8RF from 9.30am to 3pm
Friday 9 December – Sainsbury's, Lower Richmond Road, Richmond, TW9 4LT from 9.30am to 3.30pm
If you have a question about your health, or on behalf of your family or friends, visit the health bus to get it answered.
A local pharmacist will be available to offer advice on a range of different areas including:
Tips to stay healthy and active

Accessing free NHS health checks for 40 to 74 year olds

Help to stop smoking

Preventing and reducing your risk for several diseases, including diabetes, cancer, and heart disease

Immunisations for you and your family

Information about the COVID-19 and flu vaccines
NHS staff will be on hand to give you the COVID-19 booster and flu jabs, and if you have any questions or concerns about the vaccines, you can come along and have a chat, with no pressure to get them.
Other simple ways to look after your health
When Richmond Council's health bus is out and about, do come and have a chat with one of our community champions or a health professional. You can also access lots of tips and advice from the council and our partners in the NHS and other organisations for yourself or someone you may care for.
COVID-19 booster and flu vaccine
If you get ill with flu and Covid-19 at the same time, research shows you're more likely to get seriously ill. Get both vaccines to protect you and those around you. If you're eligible for the COVID-19 booster or free flu jab, come along to one of our health buses or look out for details of our next vaccine pop-up on our website.
Cost of living support
Support is available in the borough for health and care costs and mental health. Visit our Cost of Living Hub for more information.
Dementia
Want to know how to reduce your dementia risk? Are you living with dementia or caring for someone who is? There is lots of support available in the borough.
Diabetes
Around three in five cases of type 2 diabetes can be prevented or delayed with a healthy lifestyle.
Stop smoking
Richmond Council offers a free stop smoking help and advice service.
NHS Health Checks
Even if you feel fine, being aged over 40 raises your risk of conditions like heart disease, stroke and dementia. Find out if you're eligible for a quick and free NHS Health Check.
Exercise and physical activity
Exercise and physical activity can help you to manage and prevent many conditions and diseases. Get started with Richmond Moves.
Healthy eating and weight loss
Visit the NHS website for eight practical tips to help you make healthier food and wellbeing choices.
Childhood immunisations
Immunisations are the one of the most important things we can do to protect ourselves and our children against ill health – including the MMR and polio vaccines. Search 'NHS vaccinations and when to have them'.
Cervical screening
Cervical screening saves lives. Don't ignore your invite - book an appointment with your GP practice or local sexual health clinic.
Bowel cancer
Let's be clear. If for the last 3 weeks you've had blood in your poo or it's been looser, tell your doctor.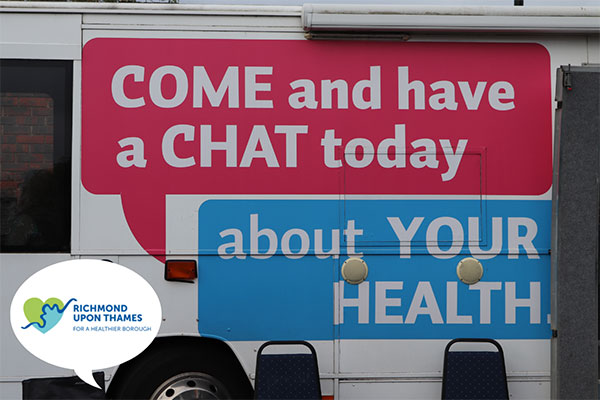 Updated: 28 November 2022