Community Heroes Awards 2020 winners and nominees
The winners and nominees for the 2020 Community Heroes' Awards have now been announced. The awards categories are:
Award nominations
We have received 204 nominations for this year's awards, highlighting all those people, groups and businesses who are willing to go above and beyond the call of duty to deliver the highest level of support and assistance within their community. This year's awards also took on the additional role of acknowledging the many people who stepped up in a huge local response to the COVID-19 pandemic.
A judging committee made up of Councillors, local voluntary sector leaders and council officers reviewed all the nominations and have now announced the shortlisted winners.  
All of the shortlisted have been written to, and while we are currently unable to host an in-person celebration event, COVID-19 guidance allowing we hope to do so towards the end of the year.
The below list summarises all the winners and those that were nominated.
Certificate of commendation
It was agreed by our judging panel that for the following categories, no shortlist could be decided due to the sheer volume of outstanding nominations received this year for the following categories. In these cases, all nominees will receive a certificate of commendation.  
These categories are: 
Helping hands 
Outstanding volunteer 
Young person achievement 
View Virtual event programme for Community Heroes Awards 2020

(pdf, 5.1 MB) to meet all the winners and nominees.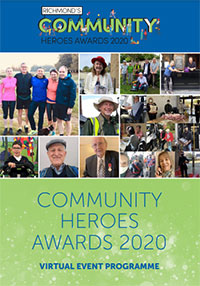 Winners and nominees
Business contribution in the community
Winner: The Angel & Crown 
Highly Commended: Richmond Rugby Club
Shortlisted:
Kew Convenience Store
Squire's Food & Wine
Meet and Deep Newsagents
Nominees:
Sidra Lebanese Restaurant 
Haymarket Media Group
Start Up Richmond
The Sussex Arms
East Sheen Micro Bakery 
Half Backs Rugby
The Waterman's Arms
Community group of the year
Winner: Richmond upon Thames Neighbourhood Care Groups
Highly Commended: Tag Youth Club for Disabled Young People 
Shortlisted:
Crossroads Care COVID volunteer arm 
Hampton & Richmond Borough Football Club  
Mothers Against Muggings
Nominees:
Age UK Richmond
FISH
Hampton Helpers
Kew Neighbourhood Association
Leaving Care Team, AfC
Lynda Murray, Richmond Good Neighbours
Marble Hill Volunteers
Mylifefilms Charity
The Inspired Hub, Hampton
Teddington and Hampton Wick Voluntary Care Group
The Beavers Trust
Whitton network
Community project of the year
Winner: Spade gardening project
Highly Commended: Sheddington
Shortlisted:
Jackie Haigh, Share & Care Collective 
Mark Jopling,  Save Udney Park
Kew Sew Scrubs
Nominees:
Barnes Children's Literature Festival 
Caitlin Limmer, Bearcat running club
Dan- The Tobacco Road Boys
Mark Jopling
Melissa Gillings, The Christmas Beaver Box campaign
Park Lane Stables, Pony visits
Queen's Road Art Project 
Barnes Film Festival
Environmental award
Winner: Ian George Andrews
Highly Commended: Michael Hildesley
Shortlisted:
Let's go outside and learn
Goodgym Richmond 
Helping hands
Winner: Ginny Spittle
Nominees:
Alison Henderson
Alison Jayne Macedo
Andrea Dodo
Bryony Duckitt
Charles (Chaz) Wiltshire
Jackie and neighbours
Charlie Jones 
Clare McNeish
Dom Palacio
Gill Butler
Ginny Spittle
Hayley Merrett
Judith Emslie
Kelly Meadows 
Mo Walker
Mrs Sharon Brewer
Nick Botting 
Patti (No last name given)
Petra Sale
Rosa Marquez
Tamra Cave
Vanessa Clark
Lifetime achievement
Winner: Howard Greenwood
Highly Commended: Bunny Farnell-Watson
Shortlisted:
Paul Leonard
Angela Roberts 
Perminder Singh Tamana
Nominees:
Giles Hobart - For his work with TFL's riverboat service and with TAG youth club for disabled young people
Jean Loveland - For her work setting up Ham parade market, with the SPADE gardening project and the Ham Fair and Forum committees
Paula and William Mortimer - For their work with FiSH neighbourhood care, Castelnau Community Centre, Barnes Community Association and Barnes Literary Society
Peter Davenport - For his work setting up and leading Richmond Health Walks
Peter Willan - Trustee of The Richmond Society and Chair of Richmond Heathrow Campaign
Sandra Sullivan - For her work as a brownie leader in Ham and Petersham
Mary Noyes - District commissioner of the 2nd Kew Brownie Pack as Brown Owl Leader and leading music activities at St. Luke's Church
Sue Garner - For taking over the facilitation of the Richmond Mental Health Support Group for mental health carers.
Outstanding sporting achievement
Winner: Richmond Parkrun Organisers (Andy Caie, with Francesca Creasy, Michael Glazebrook, David Pennell and Ally Pickard)
Highly Commended: Simon Griffiths
Shortlisted:
Gavin Ainsby
Eamonn Newell
Outstanding volunteer
All nominees will receive a certificate of commendation.
Nominees:
Abi Fisher - For her work with the

Kingston and Richmond Youth Council

Alison & Kevin Sears -  For their work with the National Autistic Society
Andrew White -  For volunteering with the charity SPEAR
Anita Capewell - For volunteering with charity GoodGym
Barbara Lingle Elliott - For being instrumental in the creation of the charity Mothers Against Muggings
Brenda and Keith Martin - For being lead volunteers for Richmond Foodbank's operation at Whitton Community Centre
Brian Garcia - For his work as a volunteer debt advisor at Richmond AID
Christine Walker - For volunteering at the Teddington Theatre Club for over 16 years
Colin Thih - For volunteering with Richmond Good Neighbours
David Linnette - For his work as chair of Kew Village Market
Dr Rebecca Butler - For her work as a volunteer literacy tutor at Saint Elizabeth's Catholic Primary School and Saint Richard Reynolds Catholic College
Elizabeth Foster - Volunteering at Teddington & Hampton Wick Voluntary Care, Homelink and as an NHS Responder
Elliot Harding - For providing support to young people aged 14 to 18 by becoming a BuddyUp volunteer
Felicity Barkus - For setting up the charity Mothers Against Muggings with Barbara Lingle-Elliott (nominated separately)
Firas Ali - Governor of The Vineyard Secondary School, supporting refugee families and volunteering at Ham Youth Centre
Gary Williams - For delivering PPE on behalf of the local CCG to doctor's surgeries across the borough as a volunteer with RUILS
Hirsh Cashdan - For volunteering for the Judaism for local schools programme 
Jacqueline Maceacharn - Volunteering with RUILS, Teddington
Lisa Ross - For turning the OSO Arts Centre in Barnes into a kitchen that made and delivered meals to the vulnerable in the local community
Jane Maxwell - For volunteering with the Greenwood Community Centre
John Burton - An IT volunteer at Age UK Richmond, helping older people to get online
John Coles - For volunteering with Ham & Petersham SOS
Jon Porter - For volunteering to deliver PPE with RUILS
Joseph Moran - For volunteering with St John's Ambulance
Judi Braddock - For volunteering with the  Kew Neighbourhood Association
Julia Westgarth - For setting up the Twickenham branch of the Hygiene Bank
Kathy Bravery - Volunteering as a member of Richmond AID
Kay Day - For running an elder person's club on her estate and helping the vulnerable
Kris Millican - For volunteering with Richmond Good Neighbours
Lailah Kigozi - For voluntarily delivering food for local residents as well as being a key worker helping the vulnerable in his day job
Laurence Presland - For volunteering with the People Hive Charity 
Louise Mathias - Volunteer walk leader with the Walking for Health scheme
Lucy Arrowsmith - For volunteering with the Otakar Kraus Music Trust 
Margaret Saunders - For volunteering with FiSH neighbourhood care group
Millie Spencer - For volunteering with Achieving for Children
Mrs Joan Gibson - For volunteering and setting up the Friends of Heathfield Recreation ground
Mrs Susan Nixon - Volunteering in various capacities such as The Vineyard food back, Food depot at Whitton, Kew Neighbourhood Association and Christian aid collection
Nity Raj - Event Director at the Old Deer Park Parkrun since early 2019
Penny Vegting - For volunteering for Richmond Good Neighbours
Peter and Ann Boyle - Volunteers for Crossway Pregnancy Crisis Centre
Rosemary Marston - For volunteering as a befriender with Richmond AID
Rosie Goodall - For fundraising for the stolen defibrillator from the Essex House Surgery Wall in Barnes
Rosie Taylor-Davis - For volunteering with Kew Sews Scrubs leading a group of volunteers to sew and supply tens of thousands of scrubs, and masks to NHS workers in the local area
Sally Long - For volunteering with Richmond Good Neighbours
Sarah Noble - For volunteering as a food hub coordinator with Richmond AID
Sheila Treadaway - For volunteering to source donations of material for volunteers to cut out and sew to make PPE for the frontline
Shailja Gulia - For arranging free online meditation and yoga sessions every week for members of her community during the pandemic
Sophie-Lia White - For volunteering with the charity You Can Change
Stephen Cunningham - For volunteering to help residents in his community at Fulmer Close, in Hampton with PA housing and tackling issues such as anti-social behaviour
Therese Rebeiz - For volunteering in many capacities including at Kew Gardens, as landscaping director for the 25-acre Ham Riverside Lands estate and at a community gardening club in Ham
Tony Weller - For volunteering at Richmond AID and with the SPADE gardening project
Tracey Bonsey - For volunteering at the foodbank in Whitton Community Centre
Ute Barclay - A volunteer advisor at Richmond AID for several years
Trustee of the year
Winners: Robert Bollen
Highly commended: Sue Howes
Shortlisted: 
Simon Danciger
Valerie Munro
Claudine McCreadie 
Nominees:
Young person achievement
Highly commended: The Kingston and Richmond Youth Council
All nominees will receive a certificate of commendation.
Nominees:
Huyen Thi Phan
Jack and Ethan Weissenborn and Jack Lewis
Jayden Thomas
Saffron Elizabeth Cockerton-Rai
George Muderack
Josie O'Connell
Isabella Topley
Daralis Mavale 
Kamran Ojeda-Haririan
James Hunter
Updated: 22 November 2021