Further funding opportunity available to help residents get active
21 September 2022
Local groups and organisations are invited to apply for funding through the Active Richmond Fund to help enhance the borough's offer of lifestyle activities that improve the health and wellbeing of residents.
The Active Richmond Fund supports local groups and organisations to provide both social and physical activities that help to support an active and healthy lifestyle for residents. Activities include sports, fitness, arts as well as social groups. 
The fund also supports projects that enable healthy eating choices, improve people's nutrition, increasing awareness of how to cook affordably and healthily and provides advice and support in community groups and settings. These project proposals should promote healthy and nutritious diets, whereby people eat a wide range of foods to ensure a good intake of nutrients.  
Applications are particularly encouraged from organisations and groups who work with adults who may be less physically active, at risk of obesity, from underserved communities, in care or who support local Social Prescribing and community offers. Social Prescribing connects people with activities and provides support in their local community to enable them to take control of their health and wellbeing.
For inspiration on how to get residents active, you can find a list of activities that are already available in the borough on the Richmond Moves pages.
The Active Richmond fund offers two grant levels to apply for: 
Micro Grants – up to £1,000 
Main Grants – up to £5,000 
A Micro Grant provides short-term and quick funding, for example if an organisation needed extra gym equipment or to provide additional places where demand is high for an activity. A Main Grant is for those looking for funding for long-term projects, for example if an organisation wanted to introduce a new activity or expand existing activities to other parts of the borough.  
Some examples of funding that was awarded previously include:  
Richmond EAL Friendship Group – running a women's friendship swimming club at Teddington Hydrotherapy Pool, helping women get active 
Cooking Up – running a series of cooking classes for the community showing people how to prepare a healthy meal  
Combination Dance – providing fitness and wellbeing dance sessions, including for adults with additional needs, parents and babies and those with long-term health issues  
Creative Arts Hub - hosting art sessions for people with dementia and their carers, as well as isolated older people.
Any project that encourages people to be active and look after their wellbeing could be awarded funding. For more information and to apply go to the Active Richmond Fund.
Cllr Piers Allen, Lead member for Adult Social Care and Health and Chair of the Richmond Health and Wellbeing Board, said:  
"As a Council we are working with the community as Social Prescribing is continuing to be rolled out across the country by the NHS. Social Prescribing allows medical professionals to signpost patients to a wide range of non-medical activities in their community which can help them lead healthier and happier lives. 
"The Active Richmond Fund has been extremely successful in awarding funding to organisations across the borough doing amazing work to improve the lives' of our residents. We want to continue and reinvigorate this support, so do please apply for funding."  
For guidance on applying to the Active Richmond Fund or to discuss your project please contact the Grants Team: 
Telephone: 020 8831 6297  or 020 8487 5259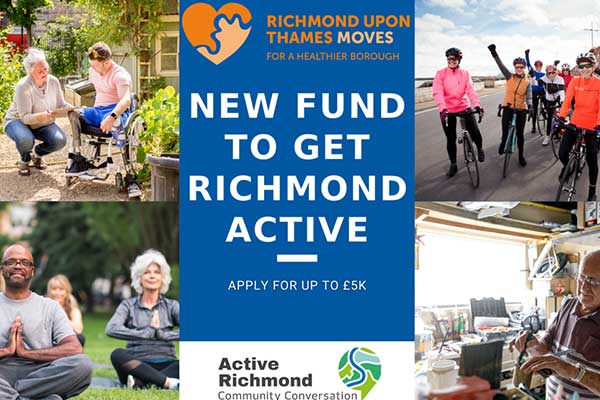 Updated: 21 September 2022