How can local businesses prepare for Brexit
Business Direct - June 2019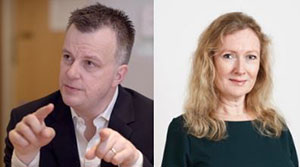 What do a dentist, a craft beer retailer, a fine wine importer and a construction industry support software company all have in common?
No, it is not the start of a corny joke. In fact, they are all concerned about the changes Brexit will bring to their businesses.
They also all attended a recent workshop in York House, Richmond, on the theme of Navigating Brexit for SMEs, part of a programme of free sessions set up to give business advice to small and medium business owners (SMEs) across London.
Attendees learned what Brexit could mean for SMEs; how to use Brexit information resources; how to deal with uncertainty and spot opportunities and how to do business post-Brexit.
Able to ask questions of the workshops presenters - long-standing EU experts - throughout the session, they were also able to learn how to take practical steps right now to prepare their businesses for both deal or no deal scenarios.   
Those EU experts are Sietske de Groot, who has worked on EU legislation and free trade deals throughout her career; Guido Reinke, PhD, who knows the EU and Brussels inside out and Chris MacNeil, MD of e/booster limited, who has been providing organisational transformation consultancy and training to firms for 25 years.
Deal or no deal?
Delays in imports and experts were common concerns for the SMEs who attended the Richmond workshop, as were staff issues, employment threats and the potential for additional admin and paperwork.
"Attendees accept that there's no silver bullet we can give them now to plan for Brexit," explains Chris MacNeil.
"However, they are now more aware of the UK's touchpoints with the EU and how these might be affected after Brexit. We have found that attendees are pleased they have attended sessions some months in advance of Brexit so that they have time to seriously plan resources within their businesses and be ahead of their competition."
With deal or no deal questions still dominating political discourse, rather than being a drawback the uncertainty ahead has actually helped to shape the content of the NBS seminars.
The team is having to anticipate the changes - both the risks and opportunities - that Brexit will bring to the economy in what is a disruptive political landscape, with the next leader of the Conservative party still uncertain and a 31 October deadline for the UK's departure from the EU looming.
"Events help shape the material itself," explains Chris. "We also shape the seminars and workshops according to feedback from the attendees. We go over the relevant terminology and theory surrounding Brexit-defining terms such as Common Market, trade deals and EORI and we look at what has happened and what has not happened, as well as speculating about potential outcomes."
"In the second part of each seminar, we offer a hands-on workshop enabling businesses to think through the potential impact of Brexit to them."
Working from experience
Running small businesses themselves, each member of the team appreciates how stretched an owner is trying to keep several spinning plates in the air - dealing with everything from customer satisfaction and employee loyalty to smooth supply chain operation and dealing with professional services, such as accountants. 
"Our days are stretched as we also want to commit to spending time with our families, friends and on personal pursuits. Brexit - whether a threat or opportunity - will destabilise the delicate balance we have worked hard to implement," says Chris.
"That is why we want to help SMEs cut through the confusion and help them understand where their touchpoints are with the EU, what the main risks to their businesses are, how they can research more for the right questions to ask and how to find post-Brexit opportunities."
"The feedback is very positive.  We are consistently scoring four and five stars (out of five) on our satisfaction surveys - anything ranging from content provided, to the instructor, to the usefulness of the course to their business.
"During the workshop sessions, SMEs are very vocal about the threats and opportunities they see during and after Brexit, and often asking for more signposting to specific resources."
"Every session will reveal at least one "eureka!" moment to audience members - be this examining the SME's supply chain for stability, considering potential VAT issues and analysing staff for free movement of people issues."
Navigating Brexit
With a Q&A at the end of each workshop and a certificate of attendance, the workshops are open to all small businesses with a turn-over of less than £44m, that have been trading for over six months.
The Navigating Brexit for SMEs seminar is funded by the London Growth Hub initiative and delivered by BrexitHelp.net. To find out more about the free sessions, or for an information pack, email LGH@BrexitHelp.net or sign up for workshop.
Contact us
If you would like to feature in our next Business Direct newsletter, email business@richmond.gov.uk
Updated: 27 September 2019