Jubilee Meadows
Powder Mill Lane, Twickenham, TW2 6EG Map
The site is adjacent to Heathfield Recreation Ground and is due to open in Summer 2022, opening date to be confirmed.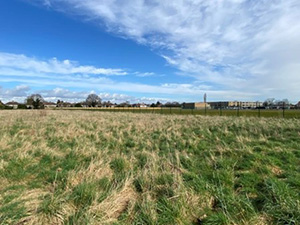 About the meadow
The site is situated off Heathfield Recreation Ground. The vision for the site is a natural parkland, with a restored neutral meadow bordered by trees.
The site will primarily be maintained as grassland, which will provide habitats for wildlife. There is a formal permeable path through the site and other mown grass paths. There is a range of seating, including a raised bench.
Friends of Heathfield Recreation Ground
If you would like to become involved in the park or find out about the projects Friends of Heathfield Recreation Ground are working on, then visit Friends of Heathfield Recreation Ground website.
Contact details:
Visiting the park
Jubilee Meadows is accessible at all times. The nearest train station is Whitton, and the area is also served by the bus route 110.