Disabled Persons Freedom Pass Scheme
The Freedom Pass for disabled people gives free travel on most of London's transport services 24 hours a day for eligible residents.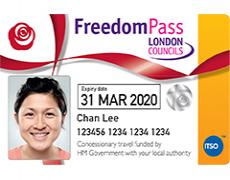 Where and when to use
A Disabled Person's Freedom Pass entitles the holder to the following travel concessions:
Free travel on London's underground, buses, docklands light railway and trams at all times.
Free travel on National Rail from 9.30am Monday to Friday and all day weekends and public holidays.
Free travel on the following London Overground networks 24 hours a day:

Stratford to Richmond
Willesden Junction to Clapham Junction
Euston to Watford Junction, and
Gospel Oak to Barking

Most disabled pass holders (other than those issued with a discretionary pass) will be entitled to free travel on local bus services in England outside London between 9.30am and 11pm Monday to Friday, and all day at weekends and on public holidays.
Eligibility
You can apply for the Disabled Persons Freedom Pass if your sole or principal residence is in the London Borough of Richmond upon Thames and you have any of the statutory disabilities listed in the Transport Act 2000:
People who are blind or partially sighted.
People who are profoundly or seriously deaf.
People who are without speech.
People with a disability or injury which has a substantial and long term adverse effect on their ability to walk.
People without arms or long term loss of use of both arms.
People with a learning disability defined as 'a state of arrested or incomplete development of mind which includes significant impairment of intelligence and social functioning'.
People who, if they applied for the grant of a licence to drive a motor vehicle, would have their application refused on the basis of physical fitness, but not on the ground of persistent misuse of drugs or alcohol.
In addition Richmond Council has agreed to the issue of passes to some applicants with a mental health need.
How to apply
Disabled Persons' Freedom Pass applications should be sent to the Supported Travel Team who assess people for eligibility onto the scheme.
We will assess your application and, if you qualify for a pass, your Freedom Pass will be posted directly to you.
Equalities Act 2010: should you require a reasonable adjustment or assistance to complete an application for a disabled persons freedom pass, please call 020 8831 6094 or 020 8831 6312.
Application pack
Download our Disabled Persons Freedom Passes application pack. (You can also read our Personal Information Policy).
If you have any questions about the form, need help completing or if you would like a hard copy sent to you please call 020 8831 6312 or email AccessibleTransport@richmond.gov.uk.
Please return the completed application form with all the relevant documents to:
Supported Travel Team
44 York Street
Twickenham
TW1 3BZ

Make sure you use the correct postage when sending in your application so it is not delayed. If you are unsure how much postage you require, have your envelope weighed at a Post Office.
Replacement passes
Existing Freedom Pass holders who lose or damage their cards will be charged £12 for replacements.
Online
You can request a replacement pass online. If you already have an account you can log in, pay the £12 replacement fee and request a replacement in your account. If you do not have an account you can create one.
By telephone
Contact the Freedom Pass Helpline on 0300 330 1433, Monday to Saturday from 8am to 6pm.
By email
Email info@freedompass.org to request a replacement pass.
What happens next
Once payment has been received and confirmed you should expect to receive your replacement Freedom Pass in the post in three to ten working days.
If you find a pass you have previously lost, it will no longer work. Please send it to the following address:
FREEPOST
FREEDOM PASS RETURNS (No stamp required).
You are not allowed to hold more than one concessionary pass at any one time. Only use the most recently obtained pass and return any others.
Appeals
If you are turned down for the scheme, you have a right to appeal. The appeals procedure

(pdf, 106KB) outlines the two stages of appeal.
In a stage one appeal you are invited to provide further medical evidence and an appeal statement to explain why you believe yourself to be eligible for the scheme. If unsuccessful at stage one appeal, the refusal letter will offer you the option to progress your appeal in writing to the Assistant Director of Resources should you feel that any issues remain that have not been addressed previously at the Stage 1 appeal.
Renewing your pass
If you were first issued your Disabled Person's Freedom pass in 2015, it is now due for reassessment. Pass holders have their eligibility for the scheme reassessed every 5 years, regardless of the expiry date written on the front of the pass.
Renewal letters were sent out in July 2019, and since then we have sent out further reminder letters for those who have not yet responded. If you have not responded to these letters your pass will be deactivated on 6 January 2020, and you will be required to pay for any future travel.
If you did respond by re-applying for your pass and have not received any further reminder letters, your renewed Disabled Person's Freedom Pass will be posted to your home address between February and March 2020. 
If you did not receive a letter please contact the supported travel team urgently on 020 8831 6312.
More information
For information about the Disabled Persons Freedom Pass Scheme, contact us by telephone on 020 8831 6312.
The Freedom Pass is paid for by your local council and the scheme is managed by London Councils on behalf of the London boroughs.
Updated: 30 September 2020