Virgin Money Giving Mini London Marathon 2016
COVID-19: Sports update - March 2021
Following Government guidance, our Sport and Fitness Centres (including pools) are now beginning a phased reopening.
We are currently following the Government's 'Roadmap' for the reopening of our services.
Results from the Virgin Money Giving Mini London Marathon 2016.
2016 results
32 young athletes from Richmond were running the last 5km of the marathon course along with 1200 other young Londoners as part of the Virgin Money Giving Mini London Marathon. The athletes, aged 11 to 17 years, who all live or go to school in the borough competed against other London Boroughs in each age category and the overall borough challenge.
After a cold, rainy start - for what was suggested to be one of the coldest London marathon days on record - the weather dried and the sun came out as the young athletes lined up on the course.
The runners started at Old Billingsgate and ran along the embankment, past Big Ben, Buckingham Palace and finished on the Mall. The atmosphere was brilliant, like no other junior race, with spectators out in force lining the route and encouraging all athletes.
Combining the team results, the Richmond team came 5th (subject to confirmation) overall putting them in the top 5 for the last 9 years, a fantastic achievement for the young athletes.
Team results

| Team | Finishing place |
| --- | --- |
| Boys under 13 | 16th |
| Girls under 13 | 4th |
| Boys under 15 | 6th |
| Girls under 15 | 1st |
| Boys under 17 | 8th |
| Girls under 17 | 18th |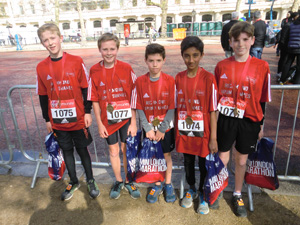 Boys under 13 team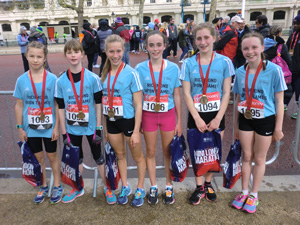 Girls under 13 team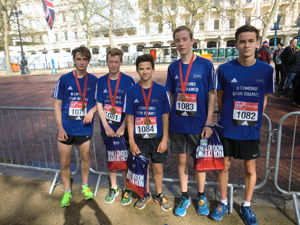 Boys under 15 team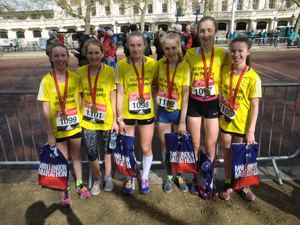 Girls under 15 team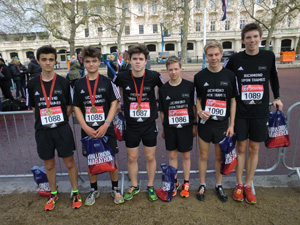 Boys under 17 team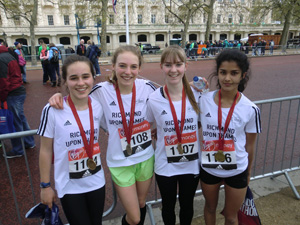 Girls under 17 team
Updated: 28 December 2016